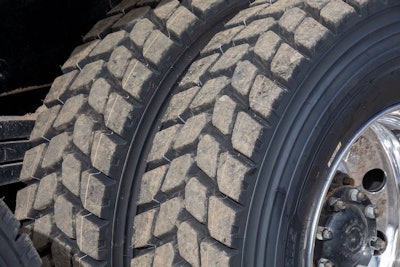 Michelin North America has launched a next generation on-/off-road, drive tire optimized for exceptional traction, toughness and wear performance. Michelin says the tire is designed for the construction, energy, concrete, and logging sectors operating in mixed use conditions.
"Vehicles working in off-road conditions encounter rock, gravel, mud, debris and other demanding conditions but still have to meet critical deadlines. Safety is key and downtime is costly," says Justin Brock, marketing manager, Construction, Michelin – Beyond Road Business Line. "We started the design process of this tire with the customer. We not only gathered insights, but also put the tires to the test on fleets using it in some of the most demanding environments. Therefore, we are confident the X Works D tire is designed to meet these challenges and we stand behind it with our six-month Road Hazard Guarantee."
According to Michelin, its new X Works D tire is designed to maximize safety, uptime and efficiency. It is available in the United States and Canada in 11R22.5 and 11R24.5 sizes in load range LRH. The X Works D also is backed by Michelin's Worry Free six-month Road Hazard Guarantee, the company says.