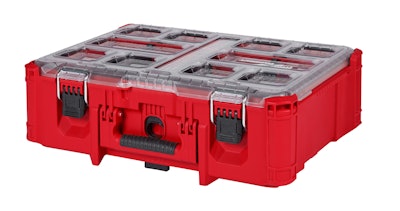 Milwaukee Tool has released three new products: a deep organizer, rolling tool chest and heavy-duty work pants.
Milwaukee continues to expand its PackOut Modular Storage System with the new PackOut Deep Organizer. This new organizer provides users with another versatile and durable solution for storing large fittings and accessories, the company says.
With a 50-lb. weight capacity, the PackOut Deep Organizer features quick-adjust dividers and a depth of 5.5 in. to customize internal compartments to fit user's needs. To keep contents secure, the transparent lid seals the compartments to prevent contents from traveling during transport. The IP65 rated weather seal protects tools, accessories and jobsite materials from rain and debris.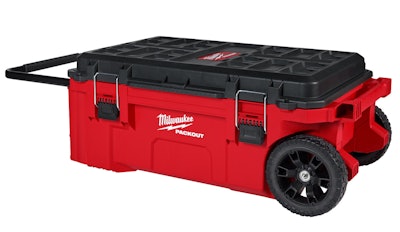 Milwaukee further expands the PackOut Modular Storage System with the new PackOut Rolling Tool Chest, which enables users to store larger tools and equipment, while providing the ability to transport two PackOut stacks onto the site with the new Dual Stack Top.
Featuring an industrial-grade handle and 9-in. all terrain wheels, this tool chest can be rolled anywhere on the jobsite. An impact resistant body and metal reinforced locking points provide maximum strength and durability.
This 35-gallon tool chest has a 250-lb. weight capacity and an interior organization tray, making it ideal for storing and keeping large tools and jobsite materials organized. A locking lid support feature keeps the top securely open, which prevents sudden lid closure while working with tools and accessories, Milwaukee says.
Milwaukee also has expanded its lineup of workwear with the introduction of Heavy Duty Flex Work Pants. Providing comfort and mobility for long days and tough conditions without sacrificing durability, the new Heavy Duty Flex Work Pants are built to outlast the job, the company says.
Designed with FreeFlex Mobility, the broken in fabric allows for free movement with the user, preventing stiffness and discomfort. In addition, Milwaukee is updating their WorkSkin offering with the new WorkSkin Midweight Base Layer.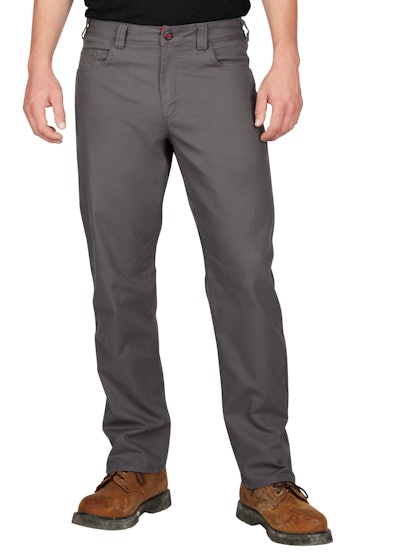 "Work Pants are an essential piece of gear for all pros, working to keep the wearer comfortable and protected from the elements. Because work pants typically see the most wear and tear on a jobsite, user frustrations are commonly reflected through discomfort, limited mobility and lack in overall durability," says James Grow, director of product marketing, Milwaukee Tool.
"After working together with users to fully understand these frustrations, we are excited to offer a solution that is built to outlast the job and meet the demands of professional tradesmen," Grow says.
Maximizing user experience without hindering productivity, the Heavy-Duty Flex Work Pants are designed with comfort in mind. The lightweight, broken-in cotton/poly/spandex blend and brushed lining fabric provides a comfortable, next-to-skin feel, while the 10 oz. fabric weight is designed for wear in all seasons.
FreeFlex Mobility and a unique crotch gusset provides maximum range of motion and built-in stretch that delivers unrestricted mobility on the jobsite. Built to outlast the job, the work pants are up to three times more durable against comparable work pants and made with triple stitch seams at common failure points, Milwaukee says.
Easy-to-access front pockets with a fold back design increase tear resistance and prevent holes. Pockets with dedicated durable clip-on locations provide ideal storage. Designed with a straight, regular fit creating room to move, the work pants are available in two colors and offered in 18 sizes, the company says.