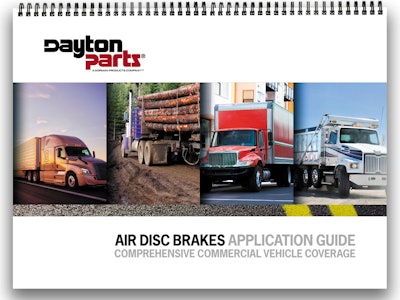 Dayton Parts LLC, a wholly owned subsidiary of Dorman Products, is announcing at Heavy Duty Aftermarket Week (HDAW) 2022 this week the launch of its air disc brake (ADB) application guide.
The 30-page easy-to-use visual guide makes it simple for aftermarket distributors and vehicle operators to identify the correct replacement components on all major original equipment ADB models, Dayton Parts says.
"In today's commercial transportation climate, now more than ever, minimizing downtime is crucial," says Walt Sherbourne, vice president of marketing, Dayton Parts. "This new air disc brake application guide makes finding the right replacement component quick and easy allowing for timely maintenance, getting vehicles back on the road as fast as possible."
Dayton Parts says the new application guide includes a variety of user-friendly features for stress-free navigation and faster access to essential replacement part details, including:
Easy-to-follow reference tabs for well-organized flow and readability
Pad visual reference/match tool for efficient identification of the correct ADB model
A variety of product photos including pad retainer bar images for ADB model clarification
Comprehensive cross reference of over 175 part numbers to assist with replacement requirements
Copies of the new air disc brake application guide can be obtained through daytonparts.com, publication SB-FC100, the company adds. Dayton Parts product portfolio will be on display at HDAW with Dorman Products at booth 509.