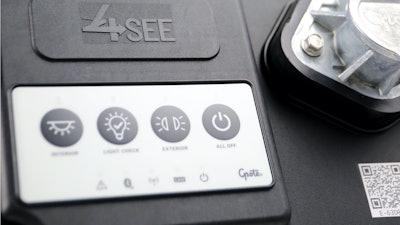 It's been a busy couple weeks at Grote Industries.
Only two weeks after announcing fourth-generation leaders Dominic, John and Mike Grote have acquired 100 percent control of the business, Grote Industries released its revolutionary new 4SEE smart trailer system during a press event Wednesday.
Grote Industries says the new 4SEE smart trailer system uses a combination of hardware and software to enable truck fleets and vehicle operators to have much more access to data related to their operations and and ultimately improve safety on the roadways. The company says the technology could help continue to increase the adoption rate of smart trailers — currently estimated at just 5 percent of the trailer population, Grote says — to as high as 34 percent by 2027.
"Grote Industries has its eyes set on the future. The tech revolution in trucking is currently underway, and with 4SEE, Grote is at the forefront of that, giving operators the capability of tracking their fleet easier and keeping drivers and cargo safer on the roads," says Dominic Grote, CEO and president.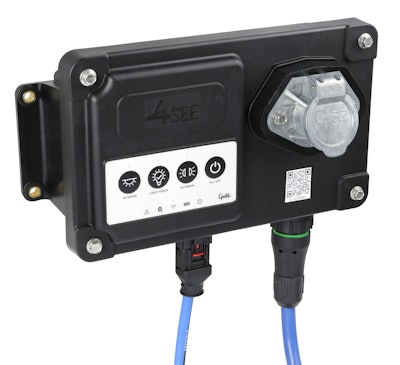 In releasing 4SEE on Wednesday, Grote says it chose to focus on the trailer instead of the truck to develop its safety solutions for several reasons. Grote says smarter trailer use offers great control over safety, security, efficiency and cost savings.
Grote says smart trailers also enable more insight and accessibility than the location-focused telematics systems of today provide. They enable drivers to receive critical notifications through a mobile app on their smartphones about problems as well as crucial information, such as when a trailer is stolen, or the cargo is damaged in transport.
[RELATED: SAF-Holland upgrades to electronically controlled regulator assembly]
"The Grote North Star is in helping to make the world safer," says CJ Biank, Grote global market manager. "The primary focus [of 4SEE] is increasing the safety of all trailers it is used on."
The company describes its 4SEE technology as such: The solution works by connecting the harness, nose box and multiple sensors, creating unique data points for fleets to utilize. From there, Grote states 4SEE hardwires all the components with an innovative digital harness system that connects without grease and has a single connection point (the 4SEE nose box) to cab inputs. The company says this enables the driver or fleet manager to have all outputs in one place. The 4SEE technology also has the ability to integrate with existing telematics solutions, so it becomes part of the fleet's one solution for data needs, the company says.
And with traffic fatalities having reached a 16-year high in 2021, per the National Highway Traffic Safety Administration (NHTSA), the need for accident prevention technology has never been greater, the company says.
Grote Industries states its goal for the 4SEE system is to bring all the independent solutions together into one system, with a common communication stream, without increasing the harness or hardware required on the trailer. Additionally, the company notes the digital harness system provides modules to connect legacy hardware and digital hardware to the same harness while isolating them to prevent one piece of the system from interfering with any other.
Biank adds 4SEE also will allow agnostic data integration with other telematic providers where necessary.
Dominic Grote says the company is already taking orders for 4SEE and expects to have available as soon as October, with a larger rollout scheduled in 2023. Grote Industries also will manufacture the 4SEE solution in North America to reduce supply chain issues.
Additionally, Biank says the solution will be available as an OE spec option with some trailer manufacturers and also can be retrofitted in two to eight hours, depending on trailer an application. Grote also has developed a national install network to provide retrofit solutions, he says, adding in time the solution should be applicable for nearly all heavy-duty trailer types.
"We are already testing these smart trailers, and have over 500,000 miles completed, soon to cross the 1-million-mile threshold," Dominic Grote adds.
Dr. Adam Slade, Grote director of engineering, says 4SEE also has the capability to monitor hardware performance and lifecycle while in use, and the solution can operate with replacement aftermarket components when necessary to keep a trailer on the road.