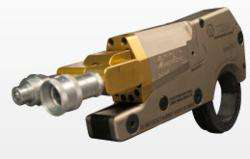 Titan Technologies International announced Monday plans to re-release its ST-LP2 hydraulic torque wrench.
The tool was recently taken off the market to make significant improvements to the product's durability.
"Our engineers are the best in the industry", said Ron Torretti, General Manager of Titan Technologies International. "They continue to develop solutions that revolutionize the bolting industry. The redesign of the ST-LP2 will reinforce this and our position in the marketplace."
The redesigned wrench can generate up to 2,000 foot-pounds of torque, the company says.