Gates Corporation has added five new sizes of its FleetRunner Hi-Temp Straight Coolant Hose.
The company says the durable stick hose excels in extreme conditions, making it ideal for extended use in heavy-duty trucks.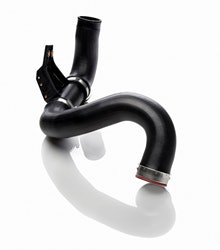 In addition, this release includes two complete turbocharger hose assemblies which complement Gates growing line of turbocharger hoses and kits. These hard-to-find assemblies for Sprinter Vans include all OE Exact components (hoses, mounting bracket) at a competitive aftermarket price. OE Exact and OE Performance Coolant Outlets are now available as well and are the perfect extension to our category leading full-line coverage of cooling system components. This extension of 20 new parts is comprised of Thermostat Housing Assemblies, Water Outlets, Thermostat Covers, Coolant Air Bleeder Housings and more. Also on the lineup this month are 14 new parts for light duty water pumps. Recognized for durability and quality, our water pumps are constructed with premium materials for maximum performance.