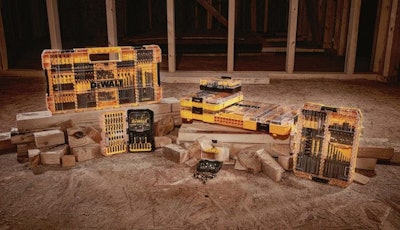 Dewalt debuts ToughCase + Accessory Storage Sets that are the latest addition to the brand's accessory storage, with features to help keep drilling and fastening bits organized.
The system includes four container sizes: the Small Bulk Storage Container, Small ToughCase + Container, Medium ToughCase + Container and Large ToughCase + Container for unlimited configurations, the company says.
The ToughCase + Containers feature newly-designed bit storage, with a bit bar position that allows for easy removal of bits. Clear lids let users see what's in the case at a glance. In addition, the small, medium and large ToughCase + Containers include a proprietary latch system to connect to each other for optimized storage space. The Small Bulk Storage Container fits into each of the units and helps loose materials stay organized, Dewalt says.
The sets are available with the most popular lines of bits from Dewalt, including Max Fit Bits, FlexTorq Bits, Tough Grip Bits and more.