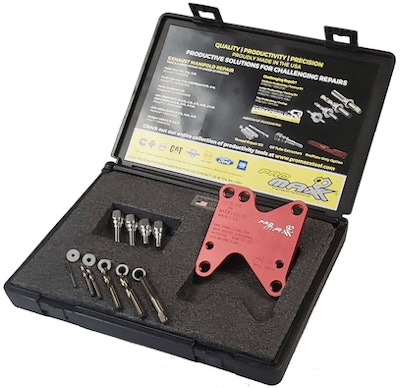 ProMAXX Tool announced it is expanding its reach and expertise to address the growing demand for aftermarket repairs on Class 8 vehicles.
The new NINO HD ProKit (PMXMCK200PRO) tool mounts directly to the Mack MP8 and Volvo D13 exhaust manifolds and turbocharger for an immediate and highly productive repair. The device will assist diesel technicians in removing broken bolts rather than replacing the manifold or turbocharger, the company says.
"At ProMAXX, we opened the market in developing exhaust manifold repair (EMR) solutions and are driven to continue introducing productive solutions and helping service centers drive costs down and efficiency up," says, President and Founder Jeffrey Del Rossa.
"NINO HD is a natural expansion of our highly successful EGR repair kit for the Ford 6.7L Power Stroke and our BULLIT EMR kit for class 8 diesel engines. Class 8 trucks are made to work constantly. When they are sitting in a service bay it hurts the customer's asset utilization data and the repair shop's productivity.  We engineered NINO HD to address both the EGR side of the manifold and the turbocharger, delivering thousands of dollars in repair time and shop costs," says Del Rossa.
The NINO HD ProKit contains all the components needed to make a repair onto both the turbo and the EGR mounting positions on the exhaust manifold of Mack MP8 & Volvo D13 trucks. The NINO HD will not only save the manifold and turbocharger from having to be replaced (reducing demand on shop inventory) but will cut repair time down to under 60 minutes, the company says.