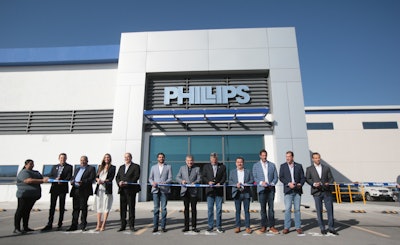 Phillips held a formal grand opening for its new production facility in Arteaga, Mexico, this week.
The reconfigured and newly constructed buildings on the Phillips campus are will produce products destined for Phillips Industries and Phillips Connect customers in North America. The new campus now totals 500,000 sq.-ft., with the newest production facility that was completed last year being 380,000 sq.-ft. The new building will house all Phillips Industries manufacturing operations, including those already in Mexico, and all production lines relocated from their former location in Santa Fe Springs, Calif.
"Our experience in Mexico has proven to me that it's the absolute best place to manufacture Phillips and Phillips Connect products," says Rob Phillips, CEO and president of Phillips Industries and Phillips Connect. "The facility is the cleanest, most well-organized, and the best managed we have anywhere in the world. Most importantly, the people are outstanding. Our current workforce and those ready to come to work for us can be relied upon to carry our success forward. We depend on that as we continue to expand here in Mexico."
Phillips entered Mexico for production of wiring harnesses in 2007 and moved to a larger location in Arteaga in 2015 to meet the growing demands of its Phillips Industries OEM customers. In moving its California production to Mexico, the company says it has taken advantage of this move to upgrade equipment, including three new high-speed wire and cable extruders, 36 new injection molding machines, and various other applicators to prepare the factory for increased production capacity. These improvements will significantly increase Phillips Industries' capacity to service both the Aftermarket and vehicle OEMs in North America.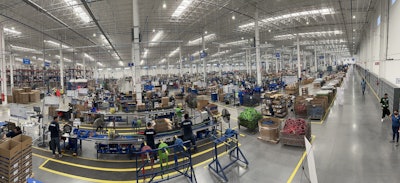 Additionally, with the expanded space, the latest in manufacturing techniques and quality control functions, the availability of an excellent workforce, and proximity to its customers, Phillips Industries is prepared for additional business and the high service levels for which they are recognized. The original Arteaga building, with 120,000 sq.-ft., of floor space, has been reconfigured to manufacture, test, and ship electronic telematics products for the Phillips Connect business under the highest of standards.
Phillips Connect is in the process of relocating its manufacturing from China and near-shoring its product assembly to ensure lower cost, fewer supply chain constrictions, better control of quality, and quicker delivery to its North American customers. The new Phillips Connect facility includes an ESD SAFE room featuring 21,000 sq.-ft., of controlled ambient environment that meets the ANSI ESD 20/20 standards for electronic assembly. Phillips says production capabilities of the new facility include in-circuit device programming, automatic fully automated glue dispensing, and assembly using S-Y and 6-axis robots, automated torque drivers, leak detection systems up to IP69K, along with functional testing, and customer acceptance testing.
Quality and production standards are based on ISO9001 and follow IPC610c for electronic assembly, inspection, and acceptance criteria, the company says. All test stations are connected to a custom-made SCADA system that retains the most critical information for every unit ensuring control and traceability to the sub-assembly level. Purchased items are 100 percent checked as they are received with follow-up assessments, such as their battery strength, as they are designated for production, the company adds.
By the end of 2023, Phillips expects to employ 2,100 people in Arteaga.
Phillips headquarters will remain in California and serve as the base for Customer Service, Accounting, Research Development, and other support functions for North America, Europe, Phillips Connect, and Phillips Innovations.