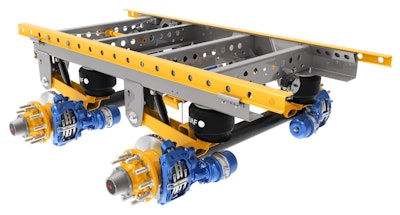 SAF-Holland has integrated Haldex brake and air control solutions into the SAF-Holland current portfolio of SAF trailer axle/suspension systems. The announcement was made last week during ATA's Technology & Maintenance Council (TMC) Annual Meeting and Expo in Orlando.
SAF-Holland acquired Haldex in 2022 and says adding Haldex's product line completes its SAF system offerings.
"A major step in our continued growth and product development strategy was the acquisition of Haldex," says Mike Ginocchio, vice president, Product Line Management, Americas for SAF-Holland.
With more than 100 years of history under its belt, Haldex is focused on the efficiencies and mechanics of braking, expanding its offerings into the global truck and trailer markets, SAF-Holland says. And with SAF-Holland's commitment to delivering systems solutions as a one-stop-shop provider, the acquisition of Haldex takes that promise to a whole new level. Again, when it comes to trailer suspension, axle, and braking systems, Haldex products perfect their overall system offerings, the company adds.
Haldex Product Line Up
The SAF brand of air disc brakes is well established as global leading, and now with the addition of industry leading Haldex disc brake calipers and spring brake actuators, we have created a system greater than the sum of its parts. The SAF-Holland axle and suspension bolstered with Haldex braking technologies offer fleets completely engineered and supported, air or spring suspension systems. The company says its North American P89 Series disc brake wheel end now incorporates Haldex braking technologies for maximum performance, reliability, and low total cost of ownership.

To add safety and savings to the SAF trailer suspension/axle product line, the company will offer the optional SAF Tire Pilot Plus. This system manages tire pressure with real time technology through inflation, deflation, and pressure equalization across all trailer tires. Haldex brings the industry's most popular automatic brake adjusters as well as actuators, including the only truly sealed actuator on the market – LifeSeal+. In addition, its air disc brakes are the lightest single-piston disc brake caliper design in the industry, SAF-Holland says.
In air controls, it has a full line of ABS, air treatment, and suspension air control valves to optimize brake and suspension system performance. In addition, the aftermarket parts program features OEM-quality Haldex Original Parts, Midland premium all makes replacement parts, along with Like-Nu reman service parts.
SAF-Holland, together with Haldex, can now deliver total engineered systems to fleets for top performance and lower cost of ownership. The seamless integration of SAF-Holland and Haldex ensure that not only its global, but its North American customer-based experiences the full benefit of integrated competencies, one-stop shopping, and new levels of customer service, the company says.
Adds Ginocchio, "As we move forward, the integration of Haldex means that we now have 30 production sites in addition to 40 subsidiaries, 5,600 employees and most important to our fleet customers, 20,000 parts and service centers worldwide."