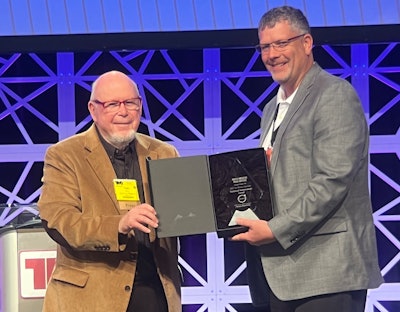 Volvo's I-Torque powertrain, which the company says is an intelligent powertrain for heavy trucks, won the Jim Winsor Technical Achievement Award from the North American Truck Writers at ATA's Technology & Maintenance Council (TMC) Annual Meeting and Expo in Orlando Wednesday.
"We're very happy to receive this award," says Duane Tegels, product marketing manager for Volvo Powertrian. "The engineers worked hard on this. And we're getting good feedback from the fleets. It's a great fuel-efficiency tool."
Volvo's I-Torque powertrain says it achieves improved fuel economy by combining an turbo-compounded diesel, a 13-speed automated manual transmission, a low numerical axle ratio, and load-sensing software for cruising at low engine revs. The system's electronic controls use map-based data and GPS positioning to manage speed and gear shifting while ascending and descending grades.
[RELATED: Volvo announces Volvo Blue maintenance plan]
The I-Torque powertrain was one of five finalists from an initial list of 16 products suggested by the truck writers group, says Tom Berg, who headed the nine-member judges panel. The other four finalists were:
Detroit Assurance 5.0 system of electronic safety devices that help the driver keep a truck in its lane and under control to avoid and mitigate collisions.
Grote 4See Smart Trailer system that features hardware and software that brings together all the independent electric and electronic equipment into a common communication stream without increasing the harness or hardware required on a trailer.
Phillips Connect Smart 7 nosebox (three versions) that includes advanced cellular gateways, GPS trackers and sensor hubs that pinpoint and transmit trailer location, status and critical conditions to the could.
PlusDrive's autonomous truck retrofit system that converts an existing truck into semi-autonomous operation using lidar, radar and cameras with autonomous driving software.
"We truck writers have been giving this award every year since 1991, except in 2021 when the COVID pandemic interrupted life in general," says Berg, who is a freelance writer for Land Line and Construction Equipment magazines. "We feel privileged to cover the trucking industry, and aside from our reporting and writing, this is a way to honor the suppliers who continuously improve the equipment that truck operators use."
The members of the Truck Writers committee were:
John Baxter, freelance technical writer, Baxter Techwrite.
Jason Cannon, editor, Commercial Carrier Journal.
Seth Clevenger, managing editor, features, Transport Topics.
James Menzies, editor, Today's Trucking and Trucknews.com.
Jason Morgan, content director, Fleet Equipment.
Jim Park, equipment editor, Heavy Duty Trucking.
Jack Roberts, chief editor, Diesel Dogs Media.
John G. Smith, vice president-editorial, Newcom Media.
In 2016, this award was dedicated to James W. Winsor, a respected trucking. journalist for 50 years and enthusiastic supporter of the Technology & Maintenance Council. He passed away in 2015. The award is sponsored by Susan Fall of LaunchIt Public Relations.