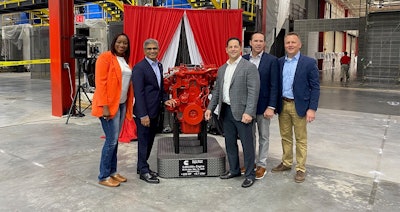 Cummins' Jamestown Engine Plant and Rocky Mount Engine Plant marked milestones in engine manufacturing recently.
The Jamestown plant in New York produced its 2.5 millionth engine on May 22. Cummins is investing $452 million into the 998,000-square-foot facility to produce the industry's first fuel-agnostic internal combustion engine platform.
"Our employees are innovating to find new ways of working that use fewer of the world's resources, and the Engine Business is at the center of this exciting innovation," says Srikanth Padmanabhan, vice president and president of Cummins Engine Business. "Our fuel agnostic platform builds on decades of experience in designing and manufacturing industry-leading products here in Jamestown. It is essential to our commitment to help customers reduce greenhouse gas emissions."
[RELATED: Cummins welcomes President Biden, announces intent to invest $1 billion in U.S. manufacturing]
The 2.5-millionth engine, an X15N, will go to Kenworth for its Legacy W900 truck, which will be delivered to Palmer Kenworth.
JEP has been in operation fro 49 years and has more than 1,500 employees that serve 1,949 active customers. It gives more than $1 million back to the Chautauqua County community through charitable donations and volunteer hours.
"Our plant wouldn't be successful without the dedicated employees who serve our company and community each day," says Anna Dibble, Cummins JEP plant manager. "We are proud to have such a strong presence in the community and be able to create a welcoming, caring and all-inclusive environment for our people to be successful."
[RELATED: Cummins' Rumsey says 'incentives and infrastructure' essential to new powertrain acceptance]
Rocky Mount Engine Plant, in North Carolina, produces the B6.7 and L9 engines. It has 2,000 employees and serves 480 customers. The 5 millionth engine is a B6.7 for Daimler Truck North America, who will provide it for Penske.
"Rocky Mount Engine Plant has been important to Cummins for more than 40 years, and as we celebrate production of the 5 millionth engine, we know the plant -- and our employees here -- will continue to play a significant role as Cummins moves ahead with our Destination Zero strategy and our future fuel agnostic platform," says Steve Pinkston, RMEP manager. "We're excited about the improvements to existing manufacturing technology at Rocky Mount Engine Plant and introducing new fuel agnostic technologies in markets and applications in line with our Destination Zero strategy. We are looking forward to RMEP manufacturing today's technology and these future products as they launch."
RMEP is a 1.3-million-square-foot plant with more than 2,000 employees who have more than 20,000 community engagement hours with community partners over the past two years. It is the first Cummins plant to produce 5 million engines and has produced more than 1 million more engines than any other Cummins facility.