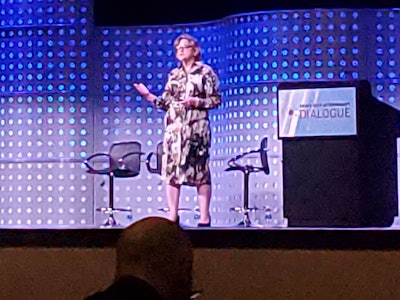 Myriad issues swirling around the nation's capital continue to have an impact — or potential impact — on the heavy-duty aftermarket, according to Ann Wilson, senior vice president, government affairs, MEMA.
"In the aftermarket there is a feeling that D.C. doesn't affect us — that it's an OEM issue, it's removed from us from an aftermarket perspective, it really doesn't affect our day-to-day business. But times have changed. There are a lot of things going on at the regulatory level that will impact your aftermarket business as you move forward, said Wilson during her presentation, "Government Affairs: Implications on the Aftermarket," at Heavy Duty Aftermarket Dialogue on Monday.
Wilson said HDMA members are the most regulated part of the trucking industry. "We have the OEMs, aftermarket and remanufacturing. You're regulated, your customers, the truck manufacturers, their fleet customers and their drivers are all regulated," she said.
[RELATED: Economists offer differing viewpoints on year ahead at HD Aftermarket Dialogue]
President Joe Biden is committed to furthering his agenda, which includes several significant regulations he and his administration will make every effort to push through before the next presidential election in 2024.
"He is committed to safety regulations, environmental regulations and labor regulations. Agencies do have the authority to move forward, specifically on safety regulations. They've been given authority by the infrastructure bill and we're going to see a lot of regulatory activity," Wilson said.
The infrastructure bill has passed, and President Biden signed it, but the Build Back Better program passed the House but stalled in the Senate. Wilson said $4 trillion by anyone's estimation is a lot of money and there is just not the will to pass this massive legislation through the U.S. Senate and send it to the president.
"One of the things we're seeing is the discussion of can they take it in bite-size chunks. One of the chunks they might take first is on energy and climate. The president has made climate one of the premier issues of his presidency. Many in the Senate, House and the administration believe this portion of the Build Back Better bill is necessary for us as a country to move forward to a lower emission, fuel efficient vehicle fleet.
[RELATED: Industry panel give 'real world' view of supply chain at HD Aftermarket Dialogue]
"So let me talk about the Big Three for 2022. Supply chain, fuel efficiency and emissions, and safety. There some levers the federal government can pull to alleviate some concerns on the supply chain. [However,] the levers they should pull and [legislation] they should pass, they haven't done yet," Wilson said.
For example, semiconductors. "I think the most trying piece of this is there is a bill in Congress that stalled in the House called the Chips Act. It would provide funding of chip manufacturing in the United States. That will not be enough to be 100 percent of this industry's needs for chips, period. What it does do is allow the United States to remain competitive in a global atmosphere," she said.
Other countries are making vast investments in chip facilities. "Make no mistake about it, the industry is very much committed to this … to jumpstart chip manufacturing. That's not going to take care of your immediate issues. I understand that. On the other hand, it allows us to remain globally competitive. The administration has been very clear they want this bill passed and it seems there is a significant amount of pressure on the House to pass it. Unfortunately, there are progressive Democrats who believe this is corporate welfare. This is not corporate welfare. We need to pass this legislation now," Wilson said. However, if there is no movement on this by June, I don't see another opportunity to pass it, she added.
Regarding safety mandates, the infrastructure bill includes a list about two pages long of new safety mandates for light and heavy vehicles and they run the gamut. The Department of Transportation is an agency that believes in the benefits of regulation.
"So don't start to think these are just goals out there. They're moving full steam ahead," Wilson said, adding the agency is considering safety mandates covering automatic emergency braking, rear underride protection, side underride protection and connected vehicle technology.
When asked about the must-wins for the industry, Wilson reiterated safety technology, fuel efficiency, supply chain, workforce and trade tariffs on goods originating from China, which is significant. Access to repair also is significant for the aftermarket. Wilson emphasized these efforts don't necessarily mean simply following Biden's lead on the issues. "I mean the ability to negotiate and work through the issues with your businesses in mind."