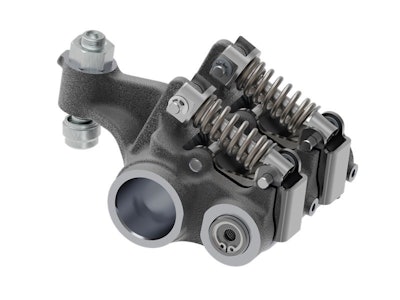 Eaton says that a recent series of tests showed that it's cylinder deactivation and late intake valve closing technologies reduced nitrogen oxides and carbon dioxide in diesel engines.
The tests were conducted by FEV. For the test, a standard valvetrain on an 11-liter diesel engine was replaced by Eaton's variable valve acutation system, able to deliver either cylinder deactivation or late intake valve closing functions. The engine was put on a dyanmometer and tested in standard, cylinder deactivation and late intake valve closing modes.
[RELATED: Eaton debuts programmable ECU for electronically heated catalysts]
The tests measured fuel consumption and exhaust temperature, from which engine-out NOx and CO2 were determined. The cylinder deactivation created up to a 38% reduction of NOx compared with 13% for late intake valve closing. The tests also showed reduced CO2 emissions.
"Emissions regulations are driving the adoption of variable valve actuation solutions by our global commercial vehicle customers," says Fabiano Contarin, product director, Commercial Vehicle Valve Actuation, Eaton's Vehicle Group. "Our portfolio of technologies is helping manufacturers meet the upcoming regulations in a number of ways based on customer preference."
Eaton's cylinder deactivation resulted in a 3% decrease in fuel consumption in a low-load cycle, while late intake valve closing lowered fuel consumption by 0.5%. The cylinder deactivation in three-cylinder mode raised exhaust temperatures, increasing the efficiency of a selective catalytic reduction system.
"If a low-load cycle is a customer's focus, then CDA is the ideal technology," Contarin says. "LIVC, instead, provides lower benefits but in a wider range of the engine map, especially when combined with a higher compression ratio."