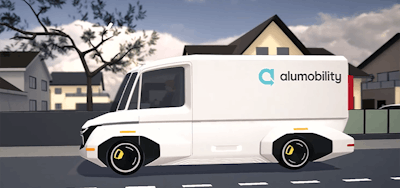 Alumobility, a group of leading aluminum and downstream technology partners, released a case study that showed significant cost savings for last-mile delivery vans when aluminum is used in an EV design.
The organization partnered with master's students at Coventry University to design a new last-mile delivery van that used aluminum instead of steel. It then compared that vehicle to traditional steel EVs and internal combustion engines.
"The more efficient these delivery vans can be in terms of cargo-carrying capacity or energy efficiency ... will have a direct effect on the bottom line of the delivery fleet operator," says Phil Dodge, technical project leader for Constellium.
[RELATED: Shyft Group earns EPA certification for electric delivery van line]
The group examined the drive cycles and other models of steel EV- and ICE-based vehicles, then worked on its own design, featuring lighter aluminum that still met the strength and durability requirements of last-mile delivery vans.
It found not only was there significant weight and cost savings in the materials used, but a secondary cost savings that came when a lighter vehicle could utilize a smaller battery and powertrain and deliver the same results.
Alumobility's redesigned last-mile van also featured ergonomic and safety features such as a lower deck to make it easier to step in and out of.
"During the process, occupant protection, both from a safety perspective and an ergonomics perspective, was at the forefront of our packaging requirements," says Karisma Leftinger, senior engineer, Novelis.
[RELATED: Class 5 walk-in van debuts]
In the final breakdown, Leftinger said, there was a 47% mass savings when using aluminum for an EV when compared to a traditional steel ICE.
Simulations also showed that the Alumobility van showed the lowest weight and energy usage of the three vehicles. Another simulation also showed that Alumobility's van was cheaper to run per year in terms of operating cost and operating cost per mile. The chief benefit here, the Alumobility panel says, was the benefit of electric charging versus the cost of traditional internal combustion fuels.
Alumobility's study also showed that the aluminum van was more sustainable, particularly if the van was recycled at the end of its useful life, making it a circular economy.