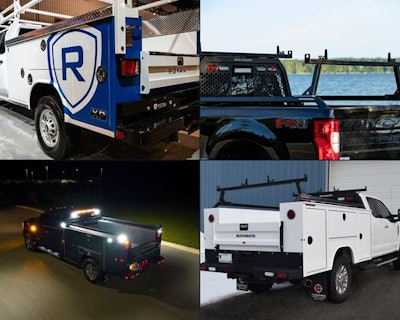 The Shyft Group will open new service body operation in Lebanon, Tenn., just east of Nashville. This new operation will serve truck dealers, distributors and fleet customers in surrounding states, including new chassis pools for expanded dealer sales and support.
The new, purpose-built 70,000-sq.-ft. facility will serve as a sales branch as well as operations for upfit, mounting, fabrication, undercoat and paint services to Shyft's service body and accessory brands including Royal Truck Body, DuraMag, Magnum and police car upfit and light accessories from Strobes-R-Us.
"Outstanding synergies from our two service body brands located on opposite coasts along with accessory brands that provide truck headache racks and lighting packages have resulted in strong sales growth," says Daryl Adams, President and CEO, The Shyft Group. "Bringing them together to provide a one-stop work truck solution in the Nashville market, one of the fastest growing U.S. economies in a state that reaches 50 percent of the country's population within a 650-mile radius, will only further accelerate that growth."
[RELATED: Shyft Group introduces electric Class 5 crew cab]
Shyft Group says Royal Truck Body's new steel XP Service Body to be distributed out of Nashville is precision engineered to eliminate water, salt and chemical traps and features a proprietary high-endurance coating system for a glossy and durable finish to seal out weather and wear. This unique coating formulation features a high-edge epoxy primer designed to provide an extra degree of corrosion resistance appropriate for heavy duty on- and off-highway equipment. The ultra-durable, scratch-resistant polyester topcoat also provides maximum gloss retention under sustained UV exposure.
"We know that protecting the investment made in service vehicles is critical to our customers and salt on roads in the winter can be one of the biggest impediments," says Steve Guillaume, president, Specialty vehicles, The Shyft Group. "In side-by-side comparisons, the XP Service Body's high-endurance proprietary coating visually outperforms the competition in simulated real-world cyclical salt tests. This anti-corrosion strength combined with advanced UV and scratch resistance makes this coating a game changer for fleet protection."
This new XP Service Body comes fully loaded with an extensive complement of standard features including open top storage, internal hinges, factory-keyed locks as well as popular options such as ladder racks and an internal master lock security system. The XP Service Body is now available in 8- and 9-foot configurations with an 11-foot model coming later this year at Royal and DuraMag branches, including Nashville, as well as select dealers and distributors.
Additionally, the DuraMag full portfolio of all aluminum premium service and truck bodies will also be offered and are built to endure with less maintenance, lighter weight for higher payloads, and reduced wear and tear. Shyft Group says Magnum headache racks helps protect passengers, payload, and the pickup itself — and includes the company's new Commander Headache Rack with a Strobes-R-Us Work Ready Lighting Package.
"Our ability to provide the ultimate service body in aluminum or steel and customized with industry leading features, racks and accessory lighting to meet the needs of the crews using the work trucks day in and out is a strong advantage in the market," says Guillaume. "We are excited to bring this complete offering to Tennessee and the entire Southeastern region of the U.S."