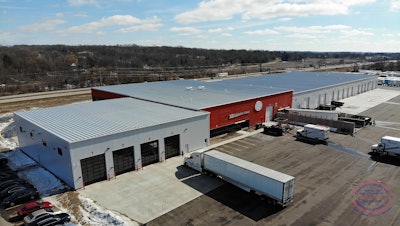 Trailer Equipment/Trailer X-press, known for supporting Hyundai, Dorsey, Manac, and Capacity yard trucks, is expanding with a new 108,000 sq.-ft., facility in Byron Center, Mich.
The dealer partnered with Wolverine Building Group for the construction and design of their new facility. The location sits on nearly 100 acres of land and will feature many new offerings, including a new truck and trailer wash operation built to be big and easy enough to get in and get out with a truck and trailer.
During cold Michigan winters, the dealer says the upgraded and automatic truck wash will have heated concrete pads at the entrance and exit to keep the wash operational in freezing temperatures. It also will have a "Rear Snow Blast" so the dealer can remove snow on the top of equipment through the wash for safer transport down the public roads and quicker repair times on roof repairs in the winter months. Trailer Equipment/Trailer X-press also will continue Trailer Wash Outs for the food-grade community, and says the wash is anticipated to be open to the public in March 2023.
Another added service is the company's "Quick Service" feature for hour or less jobs that the dealership can handle immediately for trailers. Drivers park inside the building and can use the facility's trucker lounge facilities while they wait. All trailer inspections for rental, lease, service and sales will be handled through Quick Service, and that will include pictures of the condition of the equipment.
Finally, Trailer Equipment/Trailer X-press says it also will have a new monthly rental space parking lot, where truckers can park their equipment for either storage or general parking for a small monthly fee.