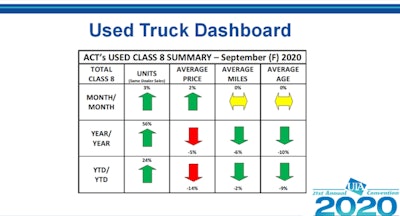 After an ugly spring where sales throughout the equipment market plunged due to the onset of the COVID-19 coronavirus pandemic, volumes have returned in the used truck space and indicators show the market should remain stable through the end of the year and into 2021, reported a panel of experts Wednesday during the 2020 Used Truck Association virtual convention.
ACT Research's Steve Tam kicked off Wednesday's session and said entering this year his company expected the used market to be down slightly after a solid 2019. He said the market was trending in that direction until March when COVID-19 hit and it collapsed. But even with that sudden cliff, he said the market's recovery was almost immediate, and over the last few months the used truck market has started not only outpacing ACT's original 2020 projections, but also 2019's actual sales results.
"Used truck sales are surging," said Tam. "We're up about 25 percent in same dealer sales volumes over 2019, year-to-date."
Learn how to move your used trucks faster
With unsold used inventory depreciating at a rate of more than 2% monthly, efficient inventory turnover is a must for dealers. Download this eBook, "Sold! Best Practices for Moving Used Trucks," to access proven strategies for selling used trucks faster.
Presenters attributed the volume surge to both the speed of the country's economic recovery and its impact on the fleet and new equipment space.
Since bottoming out in April, Tam said the U.S. economy has steadily rebounded over the past six months and is now running close to pre-pandemic levels despite purchasing shifts. Americans have not yet been able to return to pre-pandemic activities, Tam said, but they have been purchasing durable consumer goods — a segment of the economy that is incredibly reliant on trucking.
This has meant the nation's trucking fleets, which furloughed nearly 100,000 drivers in the spring, have been forced to quickly scale up their businesses. And with OEM production still catching up from spring COVID-19 safety shutdowns, the used truck market has become a lifeline for fleets desperately in need of equipment.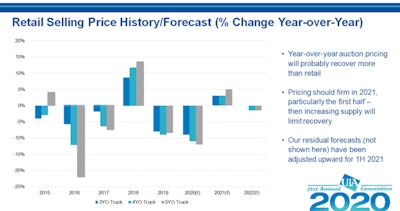 J.D. Power's Chris Visser said Wednesday the auction market first identified this flood of end user purchasers in June, and that pricing in the channel has increased each month since. He said pricing in the third quarter was up 16.7 percent over the same period last year and that with some low-mileage, late-model units, equipment is actually appreciating in value because end user demand is so high.
Strong demand and regular depreciation can be found in the retail channel as well, Visser said. According to J.D. Power data, October's 5.6 sales per dealer rooftop was the highest total for the used truck market in more than two years.
"September's foot traffic looked like the good old days," he said.
When evaluated by equipment segment, Black Book's Josh Giles said regional tractors and day cabs have proven slightly more valuable than over the road sleepers over the last six months due to the increase of last-mile delivery freight. Giles also noted that in the medium-duty space, Class 4 tractors are retaining their value better than their larger Class 7 counterparts — also a likely result of the COVID-forced push toward e-commerce and delivery.
Overall, Wednesday's speakers were bullish for the immediate future for the used truck market.
Giles said Black Book's analysis shows used truck demand remaining high through the second quarter of 2021 before slowing a bit next fall. Visser agreed, adding pricing could possibly rise in the months ahead and early 2021 before fading with demand. And though pricing this year is expected to be 5 to 10 percent below last year on average, both Visser and Tam indicated market analysis shows sales volumes should remain high through the year. After selling nearly 235,000 units last year, Tam said the retail used truck market should move about 250,000 trucks this year.
"We are moving out of our troubles," he said. "I think we dodged a bullet. Things could have been considerably worse."