The following is Part 9 of a 12-part special report from Trucks, Parts, Service on the state of the used truck market.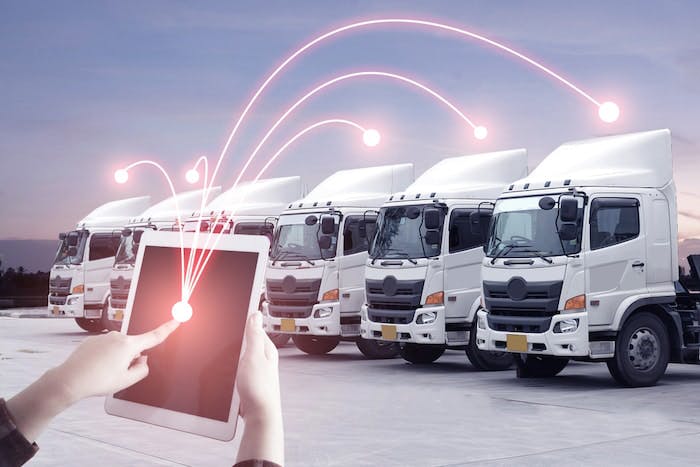 An online presence these days is practically a requirement for businesses and it's no different for dealers selling used heavy-duty trucks and trailers.
A company website might not be enough. Dealers say social media sites can be used to promote the dealership, build or strengthen rapport with current and prospective customers, draw them to the dealer's website and, of course, sell used heavy equipment.
The most powerful social media tool available for moving equipment is Facebook, which has much stronger engagement than other social platforms like Twitter and LinkedIn, says Melissa Moss, senior director of digital marketing, Randall-Reilly, publisher of Trucks, Parts, Service.
"We see a higher engagement rate with Facebook in terms of click through rates and lead form submissions. I think a lot of people underestimate Facebook with the demographic we often target in heavy equipment sales, but with more than 2 billion active Facebook users in the world, it's just a place you cannot afford to not be present," Moss says.
Learn how to move your used trucks faster
With unsold used inventory depreciating at a rate of more than 2% monthly, efficient inventory turnover is a must for dealers. Download this eBook, "Sold! Best Practices for Moving Used Trucks," to access proven strategies for selling used trucks faster.
She says Facebook campaigns offer several different calls to action, such as getting prospective buyers to click on the ad to go to a dealer's page where they can learn more about what is available, fill out a form or call a dealer. Another option is a form that populates in the Facebook platform, enabling prospects to say they are interested in a certain truck and then the message goes straight to a dealer in real time, Moss says.
Additionally, working with a third-party to develop a Facebook marketing campaign can provide dealers access to a much wider range of customers on the platform.
"We have proprietary data that provides our dealers with a targeted audience that no one else has. We can essentially zero in on people who have purchased [certain] types of vehicles in the past," says Moss. After determining the correct audience, "we can target them exclusively [and] put a dealer's inventory in front of potential buyers in their Facebook news feed."
But dealers also can leverage Facebook independently.
Young Truck Sales has been placing advertisements on Facebook for more than five years, running a Truck of the Week ad to get potential customers to click on the post and then go to the dealer's site to view the rest of its inventory, says Justin Candea, sales director, Young Truck Sales.
"With the way the Internet is these days, ads are always in your face. We're just trying to remain relevant in all of that noise," he says.
Other platforms have marketing value as well. Moss is particularly fond of YouTube, "which is a really great branding technique." A dealer with videos — 15 to 30 seconds long is best, Moss says — can opt for a campaign that can target prospective customers "pretty granularly."
As part of the campaign, when a YouTube user searches for videos about a Freightliner Cascadia, for example, the user might see an ad for a specific dealer that has that particular truck in stock.
Moss adds there is a direct correlation between running a video campaign and an increase in branded search. "So, if you see a video and you're interested in the product, you then go to Google Search and type in the company name. That's a great direct correlation we've made between running a campaign on YouTube and an increase in branded search for the client," she says.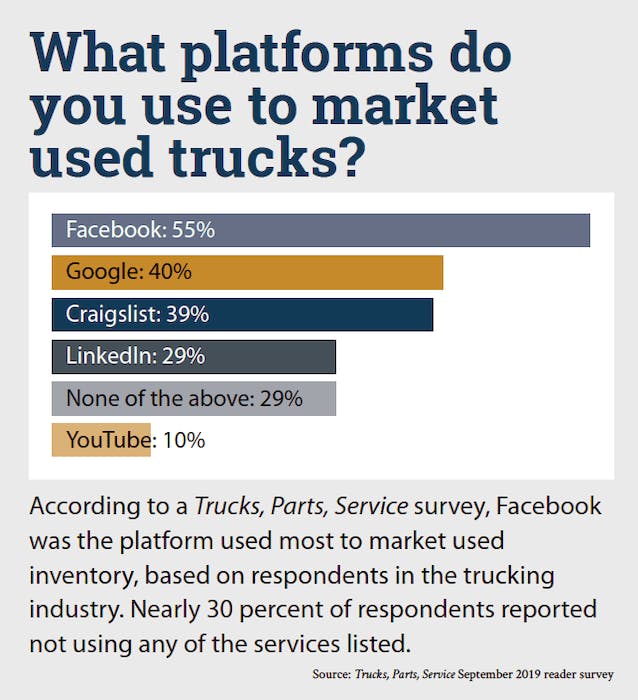 Some people will contend Facebook usage has gone down and Instagram has gone up; however, Moss points out Instagram is owned by Facebook and "any time we build a campaign in Facebook, it automatically translates over to Instagram. If we're getting more engagement with Instagram, we can shift more budget over toward that platform," she says.
"There are a lot of different social platforms. We've tried a lot of them and Facebook and YouTube are the two we see the best results with," Moss adds.
As for how to produce a video, Craig Kendall, specialty markets manager, The Pete Store, says his company has had recent success with "walkaround" videos of its inventory.
The videos include the interior and exterior of the truck, under the hood and while the vehicle is in motion. The Pete Store uses a smartphone with a device to steady the phone to shoot the videos and uses an outside company to edit them.
"[We] grab their attention and show them what they need to see," Kendall says.
And once a dealer develops a video aesthetic, it helps to keep it consistent. At TruckMarket, which has posted nearly a thousand videos in six years, Marketing Director Doug Phelan says, "Every video we put up is of a nice, clean, low mileage truck. [Each has] a good intro, a call to action and is consistent. And by consistent, I mean … [viewers] know what to expect. Our videos are laid out similarly. We walk around the same parts of a truck."
Finally, it's important to remember social media isn't just about closing sales. A good online presence also should help to create and nurture customer relationships.
"Palmer Trucks employs a social media strategy that focuses on building the brand through meaningful connections. Occasionally, we do use social platforms to retail commercial trucks as part of a well-rounded content outlay," says Marketing Manager Cameron Nichols. "When using platforms such as social media, it is essential to keep the customer's viewpoint as the focus, rather than the organization's viewpoint.