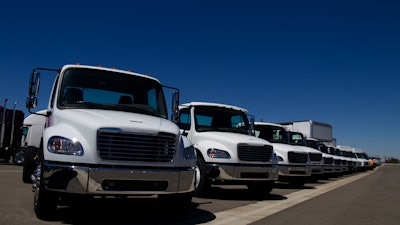 A recent report by commercial equipment data analytics firm Price Digests indicates resale values in the medium- and heavy-duty space last year surpassed 2020 totals in every month, with some specific truck models nearly doubling their resale price during the year.
According to the report, Price Digests says Class 6-8 resale values entered 2021 at $76,009, well ahead of the $62,778 where the market stood in January 2020. Pricing slipped a little in the first months of the year but remained positive on a year-over-year comparison and began climbing again in the latter half of the year. In December, average resale values for Class 6-8 trucks was $74,450, more than $17,000 higher than December 2020 ($57,180).
[RELATED: How stratospheric prices are altering the retail used truck market]
The medium-duty space also posted year over year gains throughout 2021.
Class 4-6 trucks averaged $52,098 in January 2021 after clocking in at $43,934 in January 2020. April and September were the weakest value months of the year but both still surpassed the year prior, and once again as 2021 closed valuations began to increase again and distance itself from 2020 totals. In December 2021, the average Class 4-6 tractor was valued at $58,017, Price Digest says. The same truck was worth $46,778 in December 2020.
All medium- and heavy-duty truck models saw rising values last year though Price Digests notes some models grew at higher rates. The company mentions Mack's CXU614, Kenworth's T660 and Peterbilt's 348 and 382 as examples of trucks that doubled in value from 2019 to 2021.
"The factors driving high prices and low availability will take some time to resolve. And there's no indication that they've hit a plateau just yet. Price Digests will continue to monitor the situation and provide updates throughout the year," the company adds.
Price Digests was acquired by Randall Reilly in 2021 and is a sister company of Trucks, Parts, Service.