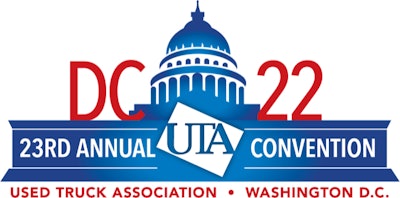 The Used Truck Association (UTA) announced Monday, Laura Perrotta, president of the American Truck Dealers (ATD), will serve as a keynote speaker for this year's annual UTA Convention.
This year's event is set for Nov. 9-12, at Gaylord National in National Harbor, Md.
ATD is a division of the National Automobile Dealers Association (NADA) and is the recognized voice of commercial truck dealers and represents more than 1,800 franchised medium- and heavy-duty truck dealers holding nearly 3,000 separate franchises, domestic and import. In addition to taking about truck values, ATD's Perrotta will provide a market update, discuss truck values and talk about hot button issues for the truck dealers.
[RELATED: Catching up with new ATD President Laura Perrotta]
Prior to joining ATD's Perrotta served as president and CEO of the American Highway Users Alliance, a nonprofit 501 (c)(6) advocacy organization serving as the united voice of the transportation community promoting safe, uncongested highways and enhanced freedom of mobility. Before that, she was the Senior Director of Legislative Affairs for the NADA where she handled financial services, transportation, truck and safety issues.
The UTA Convention is the largest used commercial truck meeting of the year, attracting attendees from across North America. The UTA Convention is full of networking events, educational workshops and informational presentations from featured speakers, including demographer Ken Gronbach, economic strategist Chris Kuehl and used truck market researcher and analyst Steve Tam. There is also a vendor expo.
For more information, and to register for the UTA Convention, visit https://www.uta.org/page/UTA-convention.