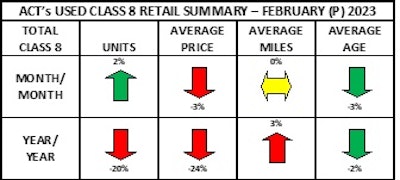 ACT Research announced Thursday preliminary Class 8 same dealer used truck retail sales volume managed a small gain, rising 2% month over month in February. Pricing was down 3 percent during the same period.
The small improvement in volume paled in comparison to the 233% sequential increase in auctions sales and a 55% jump in wholesale transactions. Combined, the used truck industry saw preliminary same dealer sales increase 49% month over month, the company says.
"Traditionally, February is not a particularly robust month for sales, but the cycle seems to keep finding ways to extend itself just a little further," says Steve Tam, ACT Research vice president. "As new truck sales have slowed in January and February, it is safe to assume used truck volumes will follow suit in the next few months."
[RELATED: J.D. Power's March 2023 Commercial Truck Guidelines report]
On a year over year basis, volumes were down 20 percent from February 2022 with pricing down 24 percent.
"As expected, declines are becoming progressively more negative," adds Tam." This is the result of the fact that prices increased in early 2022, reaching their zenith in April. While the retail market held up reasonably well in February, the preliminary average sale price for all units, including auction and wholesale transactions, fell an astounding 20% month over month."