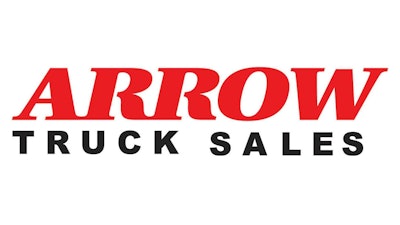 Arrow Truck Sales will discontinue selling operations at its branches in Dallas, Houston and San Antonio, effective July 31.
All other Arrow branch locations in the United States and Canada will continue operations, business as usual, the company says. Arrow also will continue to support its Texas customers on after-sales situations through its corporate customer service department.
The closure of these Arrow branches in Texas branches comes as a significant disappointment to Arrow and its business partners and is an unfortunate loss to the overall trucking industry in the state of Texas, the company says. The closure is driven by Texas state regulations, which prohibit motor vehicle manufacturers from operating as a motor vehicle selling dealership. Arrow, a subsidiary of the Volvo Group, is classified in the state of Texas as a manufacturer, and thus is affected by this regulation.
[RELATED: Capacity issues continue to hamper used truck market]
In 2007, the company secured a temporary exception that allowed Arrow to continue operations through Aug. 31, 2023. With the expiration of that exception approaching, the company is working to orderly discontinue selling operations, in accordance with state regulations, while transitioning employees, business partners and customers as smoothly as possible.
Employees who are open to relocation will be eligible for transfer to other Arrow locations. Business partners have been notified and are working in parallel to modify their own operations to adjust to this impact, the company says.
Additionally, Arrow says existing customers will continue to communicate directly with Arrow's customer service and warranty department on any after-sales-related concerns. All Arrow warranties and third-party vehicle service contracts will be honored in accordance with sales agreements. Any related repair service will continue to be conducted by affiliated repair shops in the state of Texas, as they are not affected by this legislation.
Arrow says customers with financing through its sister company, Transport Funding, will continue to be serviced without interruption. Texas customers interested in purchasing subsequent trucks from Arrow will be able to do so through other Arrow locations outside of Texas. Additional information will be shared with existing customers over the coming months to ensure a smooth transition, the company says.
"Arrow Truck Sales is committed to transitioning the operation as smoothly as possible, taking care of our customers throughout the process — as we have done for the 32 years we have been in business in Texas and the 73 years we have been in business overall — and will strategically consider our Texas customers in our future growth plans," the company states.