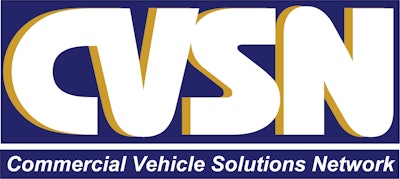 Members of the Commercial Vehicle Solutions Network (CVSN) will continue to show its dedication to the industry by sponsoring young talent at the upcoming HDAW 2023 event in Grapevine, Texas.
This year 15 different organizations have committed their time and financial resources to give the 16 students the opportunity to experience the industry's largest trade show first-hand.
These member companies are Action Truck Parts, CRW Parts, Con-Met, DENSO, Cummins-Meritor, Fleet Pride, HDA Truck Pride, HTI Hinton Transportation Investments, Midwest Wheel Companies, Northwest Drive Train Service, Phillips Industries, S & S Truck Parts, Vander Haag's, and VIPAR Heavy Duty. CVSN also sponsored an intern this year.
"Over the last decade, we've seen a number of these interns join our industry immediately after graduation and start successful careers. They all give credit to this program and the exposure they received from spending time with and learning from our various members," says Edward Kuo, executive director, CVSN. "All of our members – distributors and suppliers – acknowledge how difficult it is to find new employees. Improving the awareness of the industry is one of our association's pillars, and we need to find more ways to develop quality opportunities like this program, as quickly as possible," he added.
The HDAW Internship Program is available for current college students primarily from the Aftermarket studies program at Northwood University in Midland, Michigan, who apply and gain acceptance to the week-long internship. Throughout the week, these student interns shadow their sponsor's staff and executives during the various elements of HDAW, including the product expo, one-on-one meetings, customer dinners and meetings, and a range of duties designed to give them a full and meaningful experience, organizers say.
For more information about the program, please contact CVSN directly.