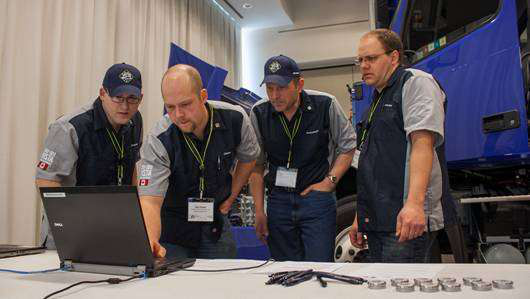 Service technicians from Babine Truck & Equipment of Prince George, Canada earned first place at the 2012-2013 Volvo Trucks North American Volvo International Service Training Award (VISTA) World Championship semifinals, claiming a spot among the best 32 teams in the world
Conducted every two years, the competition recognizes technician excellence among Volvo dealer service personnel.
Babine Truck & Equipment  will next compete at the VISTA World Finals June 25, 2013 in Gothenburg, Sweden.
Technicians Tyler Kronebusch, Dan Orser, Matthew Giesbrecht and Clarence Oosterhoff out-performed 208 other teams representing Volvo dealers across North America. All four members of the Babine team are Volvo Master Technicians, the highest level of certification for service technicians.
Master technicians typically have more than two years of work experience, more than 115 hours of training and have completed a series of tests to achieve and maintain the status.
The VISTA 2012-2013 began in August 2012 and included three rounds of online competition involving technical questions. The field was narrowed to five teams of finalists from the U.S. and Canada who traveled to Volvo Trucks' North American headquarters in Greensboro, N.C. for the final round. The other finalists represented M & K Quality Truck Sales from Byron Center, Mich., Burr Truck & Trailer Sales of Vestal, N.Y., Truck Enterprises Inc. from Harrisonburg, Va. and Mobile Fleet Service of Yakima, Wash.
[youtube 1iJS4tGfUys&feature=youtu.be nolink]
In Greensboro, the finalists were tested on their knowledge of service and parts literature and ability to look up parts and service information within the Volvo system. Contestants also had to troubleshoot pre-determined faults placed on two Volvo trucks and a Volvo D13 engine.
Each of the five finalist teams invested up to 34 hours of additional service training throughout the competition.
The best preparation for the competition, says Babine's Matthew Giesbrecht "is doing our everyday jobs. We have to be keen and aware of every truck that comes into our shop, diagnose the issue, fix it to the best of our ability and get the customer satisfied."
"The competition has been a great team-building experience, creating a lot of unity within our team and the dealership," Giesbrecht said. "It's good to have a team of really accomplished individuals that can do their job and work well under pressure."
This year's competition was the largest to-date with a 70 percent increase in dealership participation compared with the 2011 event.
"The high level of participation in the 2012-2013 competition is a real win for technicians, dealers and customers," said Göran Nyberg, president, Volvo Trucks North American Sales & Marketing. "The VISTA competition boosts training, builds knowledge and strengthens teams, which ultimately improves the customer experience."
The biennial VISTA competition began as a national event in Scandinavia in 1957 and expanded to a global event in 1977. The competition is open to all aftermarket employees in the service network.
This year 16,710 people forming 4,391 teams from 93 countries participated worldwide.