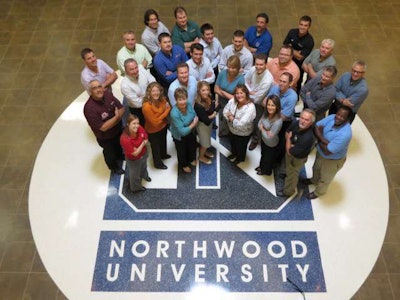 Presented by the University of the Aftermarket's leadership development program, Leadership 2.0 concluded on April 19 with a graduation ceremony for its 28 participants.
"There were many, many valuable aspects to the program but for me I most enjoyed networking with every step of the supply chain, especially the service dealers," says Eric Lacoste of Federal-Mogul who completed the course. "As manufacturers, we don't usually get that kind of quality access to the various customers. The relevance of the class roster selection elevates the networking, as we all serve the same consumers."
This year's graduating class included:
Martin Afelbil — AAIA
Jamie Ardis — AGS Company
Todd Bolon — GPI Technologies LLC
Laurie  Bundschu — CARQUEST
Michael Buzzard — Uni-Select USA
Pat Cadam — Pat's Garage
John Capela — CARQUEST
Jerry Carpenter — Liskey's Auto & Truck Service
Jerry Crump — Sanel Auto Parts
Lindsey Ehlert — NGK Spark Plugs Inc
Tim Folks — GPI Technologies
Kevin Gall — DeVilbiss Automotive Refinish
Dan Gatins — Tenneco Inc
David Haun — The Gates Corporation
Jean Hernandez — Coyote Auto Repair
Ben Jorgensen — GPI Technologies
Eric Lacoste — Federal-Mogul Corporation
Diane Larson — Larson's Service Inc.
Pedro Leyton — Parts Authority Southern
Thomas Litzinger — Motown Automotive Distributors
Matt Noir — Flynn's Tire & Auto Service
Kenneth Pulaski — Hovis Auto & Truck Supply
Daniel Smyth — Smyth Automotive
John Tully — Norwood Motor Parts Company
Rick Urso — Meineke Car Care Center
Ray Weidmann — Tenneco Inc
Michael Westrom — Continental Automotive Systems
Jessica Wynn — Federal-Mogul Corporation
Leadership 2.0 is a challenging two-week leadership development and learning experience. Participants in this year's program represented a wide-array of aftermarket companies at all levels of the industry.
The next Leadership 2.0 class will begin Aug. 25, 2013, at the Sloan Family Building for Aftermarket Studies on Northwood University's campus in Midland, Mich. Details on the program are being finalized and will be officially unveiled at the upcoming Global Automotive Aftermarket Symposium held in Chicago on May 21-22.
Northwood says interested aftermarket professionals can visit www.universityoftheaftermarket.com and click "Course Calendar" to sign up for the next Leadership 2.0 class.
Participants receive 7.0 credits toward completion of their Automotive Aftermarket Professional (AAP) or Master Automotive Aftermarket Professional (MAAP) designations.