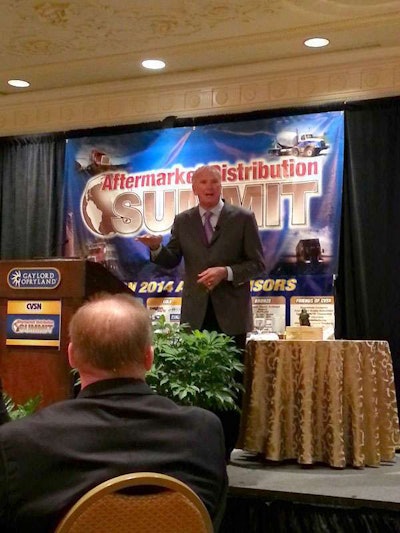 Talent is great. But talent alone doesn't always guarantee success.
Great talent still needs great coaches.
Sam Wyche knows this all too well. The former NFL player and coach – one of only four men in history to play and coach, as a head coach and an assistant, in a Super Bowl – expanded on his experience coaching talent during the opening session at the Commercial Vehicle Solutions Network (CVSN) Aftermarket Distribution Summit Monday in Nashville.
Building off this year's Summit theme, "Back to Basics: The Blocking and Tackling of our business," Wyche spoke candidly about his four decades in the NFL, and tips he learned to be a successful leader.
Believe it or not, he says the characteristics needed to lead a football team are the same skills needed to lead a business.
Coaches must be good teachers, good communicators, good observers and good at anticipating, he said. They must be enthusiastic, instill good chemistry and be able to solve a problem.
"Championship teams get beat; but they don't get beat the same way twice," he said. "If you get beat on a coverage breakdown, you fix that. If your execution is poor, you fix that."
"You [business owners] have to be able to do the same thing."
Wyche said coaches and leaders also have to be innovative. When Wyche first introduced the NFL to the no-huddle offense he didn't do it for notoriety; he did it because it gave his team an edge. Business owners have to be equally willing to think outside the box to gain an advantage.
Wyche also noted the importance of clarity, and importance of management.
"Good coaches coach other coaches" and instruct them how to coach their team, he said. Quoting Douglas MacArthur, Wyche said, "Never give a command that can be understood; always give a command that cannot be misunderstood."
CVSN honors the industry's best
Monday's opening general session also included the presentation of the President's Award.
Presented yearly, the CVSN President's Award honors heavy-duty aftermarket professionals for their service and dedication to the industry.
This year's honorees were five aftermarket veterans that passed away recently: Richard Andrews from STEMCO, Mike McGrath from SKF, Phil Raymond from Parts For Trucks, J. David Robblee from Six Robblees and Ralph "Bo" Willis from CRW Parts.
Each award winner was honored with a short slideshow, with their awards being presented to their children.
Dave Willis, son of Bo Willis and president of CVSN and CRW Parts, says the decision to honor multiple aftermarket veterans was an easy one.
"These are people who affected this industry in a humble, quiet manner," he says. "They were true teammates who gave to others and the industry."