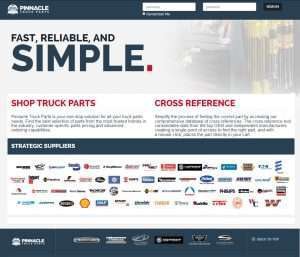 The Daimler Trucks North America (DTNA) Aftermarket team has leaped into the next frontier with recent enhancements to its business-to-business e-commerce parts sales platform, Pinnacle Truck Parts.
Developed in-house as a joint effort between DTNA and its dealer network, the new Pinnacle Truck Parts is years in the making. Featuring more than two dozen key elements designed specifically from dealer and customer recommendations, the new site is an intuitive online catalog and ordering tool gearing toward dramatically improving all aspects of a customer's parts ordering process.
"Our focus continues to be on what we can do to benefit our customer," says Pam Perez, manager, Aftermarket Technology Solutions for DTNA. "We want to get our customers their part in the quickest fashion possible."
The nuts and bolts of Pinnacle Truck Parts are quite impressive.
Supported by 367 dealers and being used by more than 13,000 customers, Perez says the platform integrates with DTNA's parts distribution channel and five preferred dealer management system vendors. For dealers using those vendors, sign up is simple and easy. DTNA's software automatically captures the dealer's inventory data from its DMS and makes it available in real time on the Pinnacle Truck Parts website. From there, customers can sign up for the service through the dealer and, once approved, begin ordering any and all parts available through the DTNA network with the click of a button.
Using the site is equally straightforward, Perez says. Because the system has real-time access to dealer and DTNA inventory data, customers searching a part number know immediately if the part they need is available at their local dealer or will need to be sourced from another location. Thanks to DTNA's expanding PDC network drastically improved fill rates across the company's dealer network, Perez says instances where a customer's part order will need to be filled by a regional PDC or different dealer is incredibly rare.
The website also features a part lookup and cross-reference tool, customizable favorites lists where customers can highlight their most commonly purchased items and order history reports that allow customers to track what they are ordering to duplicate prior orders to fill stocking needs.
"If a customer typically has one large stock order per week, they can go to their order history and select the items they ordered last week to easily order them again," says Perez.
Another new feature of the tool — one Perez and the DTNA team are especially excited about — is the SuperUser. Perez says SuperUser is an administrative account available for dealer sales associates that allow them to develop purchasing orders on behalf of their customers.
"It allows them to be live [within the sales portal] as their customer," says Perez. "They can walk through the customer's aisle and build a purchase order for them that they can take to the customer for their approval."
Similar to the website's other features, Perez says the biggest advantage of SuperUser is the time saved — for the customer and the dealer facility. She says e-commerce dramatically minimizes or eliminates a customer's need to call in an order or go to a facility when ordering parts, and that reduction of in-bound customer requests also frees up employees at dealer facilities to dedicate more time fulfilling orders and solving customer problems.
"Dealers are able to reallocate resources to go after new customers and new business," says Perez.