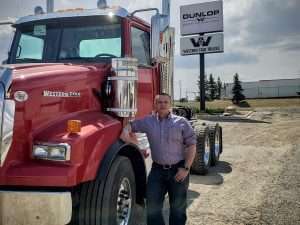 Rocky Mountain Diesel Ltd. (RMD), a family owned and operated company since 1981, has completed the acquisition of Dunlop Western Star Truck Centre Ltd., in Lethbridge and Medicine Hat, Alberta.
As a result, Rocky Mountain Diesel, which has been a Western Star dealer since 1991, says it will rebrand its Cranbrook location to Dunlop Truck Centres. With a focus on unification and growth, Rocky Mountain Diesel President Chris Thom is excited to build upon the Dunlop brand and its proud 19-year history.
"This acquisition is a testament to the strength of two strong customer-focused companies," says Thom. "We are proud of our history and look forward to a bright future with the Dunlop brand and the people who make this company great."
Going forward, Randy Dunlop, co-founder and former president of Dunlop Western Star Truck Centre, will continue employment for an additional two years to assist in the transition and help direct growth.
Rocky Mountain Diesel says the merger aims to create stronger brand awareness and superior customer service for Western Star across Southern Alberta and Southern B.C.
"Chris, Gary and I are very excited about the future," Dunlop says. "Our mutual goal is to grow two existing companies. Our values are very similar and our focus on customer satisfaction is universal. We don't anticipate any drastic changes to either operation, the acquisition is complimentary and will allow us to offer better coverage for all our customers."