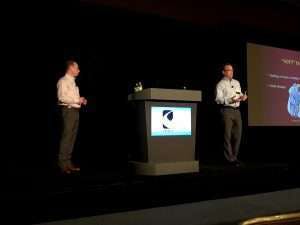 Considering life after business can be a difficult thought experiment for a lot of people. For business owners, it sometimes seems impossible. But no matter if a business owner is 35 or 65, eventually a day will come when they exit their business.
For business owners who hope to see their company remain prosperous for generations to come, proper succession planning is a must. During an educational session Tuesday at the 2018 Truck Renting and Leasing Association (TRALA) Annual Meeting in Scottsdale, Ariz., brothers Terry and Lee Resnick of Resnick Associates provided event attendees with a highly detailed look into successful succession plan and exit planning strategies, as well as the roadblocks, pitfalls and sometimes devastating effects that can come from business owners failing to prepare for the eventuality of their exit.
Terry Resnick says it's never too soon for business owners to think about their eventual exit. He says once a business is up and running, determining how it will remain so into the future is just as important if not more important than running the business on a daily basis.
"You have to think about how you are going to safely transition your business," he says. "Will you work decades to build your company only to lose it? What will be your sustained family and business legacy? There are very successful companies across the country that do not continue [when the owner exits]. It happens all too often."
According to the Resnicks, arguably the biggest obstacle facing any succession plan is complacency. Building a succession plan doesn't require daily or weekly action, but it is something that needs to be considered when a leader is relatively young. The Resnicks advise all business owners who do not have a succession plan to sit down with a professional advisor as soon as possible and consider all possible exit strategies, select the option that is best for that owner and create a plan that can be put into action when necessary.
After a plan is developed, the brothers say its best for business owners to make sure to review the document each year to determine if changes need to be made. Additionally, potential ownership successors and transfer of ownership strategies should be updated whenever that information is available. The Resnicks say it is all too common that a business leader dies suddenly and their chosen successor (usually a child) is unable to assume the role of leader in the business because the parent failed to update their succession plan to include the child.
Another incredibly important step in succession planning is developing liquidity. The Resnicks say when a business owner exits their business (either in retirement or death), a substantial amount of cash must be available or accessible to pay off any necessary taxes and provide capital a successor can use to formally purchase business.
On the subject of taxes, the Resnicks say there are hundreds of ways tax laws can financially cripple a spouse or child in the event of a business owner's sudden passing. The duo says business owners should plan for all contingencies when creating their succession plan and exit strategy. The duo also says that while some CPAs may be up to the task of assisting in a succession plan, the Resnicks recommend finding a professional accounting or succession-centric services firm with true expertise in this area.
In providing takeaways for Tuesday's audience, the duo offered the following five-point succession plan checklist:
Define personal vision and goals.
Find techniques to reduce or eliminate estate tax.
Develop liquidity positioning to avoid the forced sale of the company and provide for estate equalization.
Determine business interest transfer techniques to help achieve succession goals.
Have an independent review of existing legal/planning documents and life insurance contracts to confirm they meet current objectives.
As terrifying as succession planning appears from the outside, the Resnicks say it can be done. It just takes diligence and vigilance.
"If you're the patriarch [of your business], you have to think about that legacy of business going forward," says Lee Resnick. "Two out of three family business fail to go from the first generation to the second, only 15 percent reach the third generation."
Adds Terry, "What do you want for that next generation?"