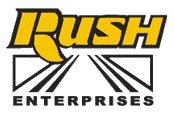 Rush Enterprises announced positive second-quarter earnings Wednesday, achieved revenues of $1.349 billion and net income of $29.4 million, or $0.72 per diluted share, compared with revenues of $1.204 billion and net income of $22.0 million, or $0.54 per diluted share.
During the second quarter of 2018, the company incurred an additional pre-tax charge to amortization expense and a charge to selling, general and administrative expense totaling of $10.7 million, or $0.20 per diluted share, associated with the upgrade and replacement of certain components of the company's enterprise resource planning software platform (ERP Platform).
"We are extremely proud of our exceptional performance this quarter and our teams who worked hard to achieve it," says W.M. "Rusty" Rush, chairman, president and CEO of Rush Enterprises. "Additionally, I am pleased to announce the approval of our first ever cash dividend this quarter, which reflects our confidence in the company's future performance. Our strategic initiatives continue to have a positive impact on our financial results, which were further strengthened by widespread activity across the commercial vehicle market and strong general economic conditions."
"As always, I'd like to thank our employees for their focus on our strategic growth initiatives, which continues to have a direct and positive impact on our financial results," adds Rush. "Their endless hard work and dedication to our customers has made and kept us successful for more than 53 years and I believe it will keep us successful for many years to come."
In the new truck sector, Rush sold 3,218 Class 8 trucks in the second quarter and accounted for 5.3 percent of the U.S. Class 8 truck market. The company also sold 3,474 Class 4-7 medium-duty commercial vehicles in the second quarter, an increase of 13 percent compared to the second quarter of 2017, and accounted for 5.3 percent of the U.S. Class 4-7 commercial vehicle market.
"Our new Class 8 truck deliveries were down slightly in the second quarter, primarily due to truck and component manufacturer production constraints.  However, our new Class 8 truck deliveries are up 7.8 percent year to date as compared to the same time frame last year," says Rush. "The healthy economy created significant activity in virtually all market segments and especially strong demand from over-the-road, construction and refuse customers."
Rush adds the company's used truck unit sales were up 18 percent during the same period, "and we continue to believe our inventory is well-positioned to support the market. The used truck market is strong, due in part to extended lead times for new Class 8 truck deliveries. We believe this will help stabilize used truck values and help lessen the impact of the large number of used trucks entering the market through the rest of the year."
He adds, "We expect our Class 8 vehicle sales will accelerate through the second half of 2018, although manufacturer production capacity limitations could delay some deliveries into 2019."
Additionally, aftermarket services accounted for approximately 64.8 percent of the company's total gross profits, with parts, service and body shop revenues reaching $422.9 million, up 15.4 percent, as compared to the second quarter of 2017.
"Our strong aftermarket performance was driven by our strategic initiatives, particularly through additions to our aftermarket sales organization, focus on our all-makes and Rig Tough parts growth, and investment in technology and productivity improvements for our Parts operations. Our results were further supported by robust activity across the United States," says Rush.
"We also added 300 technicians to our organization over the past year, significantly expanding our service capabilities throughout the country.  Mobile technicians make up a significant portion of this growth, illustrating our abilities to serve customers no matter where and when they need us," he adds.