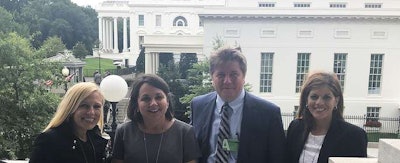 American Truck Dealers (ATD) Chairwoman Jodie Teuton and industry stakeholders met with Andrew Olmem, special assistant to the president for financial policy, this week to discuss the trucking industry's strong support for H.R. 2946 and S. 3052, bills which would repeal the 12 percent federal excise tax (FET) on most heavy-duty trucks.
Teuton discussed how the FET increases the price of a new heavy-duty truck for customers by as much as $22,000 or more, and delays their investment in new trucks featuring the latest safety and environmental technologies, ATD notes. The price increase from the FET is in addition to the nearly $40,000 in recent federal emissions and fuel economy mandates that will make it harder for small businesses to afford a new heavy-duty truck.
It also was pointed out at the meeting that Congress has not reviewed taxes imposed on heavy-duty trucking since 1982, and ATD states such review is long overdue. Olmem says he would consider ATD's views as the Trump administration drafts its anticipated comprehensive infrastructure bill.
Truck dealers note FET is a complex and difficult tax to administer. Truck dealers incur considerable costs navigating IRS regulations and paperwork associated with collecting this retail tax. The tax depends on highly customizable options for trucks that make each sale unique. Since the FET is based on annual sales, which can vary greatly, the tax also fails to provide certainty to the highway trust fund (HTF), ATD notes.
This excise tax has been the most inconsistent source of revenue for the HTF over the past 20 years. Congress should replace the FET with a more consistent revenue mechanism to fund the HTF, ATD states.