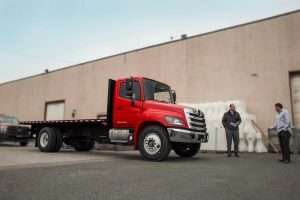 The first seven months of this year saw five of the 12 highest heavy-duty truck order months ever recorded, according to FTR. And the boom likely won't subside until next fall, reported ACT Research during its biannual seminar last month. Until then, dealers and their fleet customers should get used to waiting for new trucks because of the order backlog, says Kenny Vieth, ACT president and senior analyst.
Dealers' boots-on-the-ground experiences back up these reports. Dealerships from the Northeast to as far west as New Mexico report brisk sales of new and even used trucks.
"[This year] is probably the first time since 2006 that all segments of the business are bustling — over the road trucks, regional trucks, day cabs, construction trucks — every facet of our new truck business is really good," says Steve Dupuis, chief operating officer for Summit Truck Group. The dealer's new truck sales are up more than 70 percent over last year. When combining new, used and school buses, the dealership is up more than 80 percent, Dupuis says.
One reason business is booming is customers replacing older equipment.
"All OEMs are manufacturing better, more efficient products, so there's a rush to replace four- or five-year-old equipment with new equipment because you do gain efficiency from operating new equipment," he says.
Dupuis says another factor increasing new truck sales is customers ordering trucks early "to make sure they have a place in line" because of the order backlog at OEM assembly lines. Customers are also ordering more trucks than they currently need, he says, creating even more of a backlog and making the situation worse.
That new truck backlog is one reason behind the Summit's strong used truck sales. "We have some customers buying used trucks that typically wouldn't buy used but are now buying late-model, low mileage trucks, which has created a bump in demand," Dupuis says, adding that prices are stable, and supply is in line with demand in the used truck market.
"Our used inventory turns, year-to-date for 2018, are about five turns annualized, which is phenomenal," he says. "That means typically a truck stays on our lot for about 75 days. That's probably the highest used truck inventory turns I've ever been associated with."
Sales for H.K. Truck Center have also been good this year, but the dealership, which sells medium-duty trucks, doesn't experience the peaks and valleys that the Class 8 truck segment goes through. "We've been on a steady incline year over year. I don't think there were times of growth, a dip and then growth again. We've really just seen a steady increase in sales," says Vanessa Ciervo, chief operating officer.
Ciervo points to a couple possible factors for the recent increase in truck sales. One reason is increased confidence its customers have in their businesses — the food and construction industries to name a couple. "When talking with customers, we're hearing they're getting a lot of new contracts and their businesses are growing," she adds.
Ciervo says change to a tax law earlier this year also has played a part in strong truck sales by increasing the deduction limit for 2018, meaning businesses can deduct the full cost of equipment, up to $1 million, versus writing off a little at a time through depreciation.
Dupuis says, "Right now, truck sales are so good it's created some delivery problems. But, business is really good. It's a great time to be in the truck dealership business."