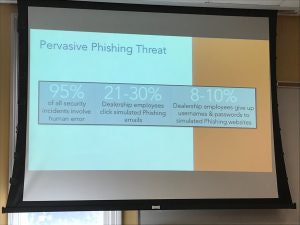 If there's one key point Erik Nachbahr, president and founder at Helion Trucking Technologies, wanted to get across to attendees during his educational presentation at the National Trailer Dealer Association (NTDA) Convention Thursday in Colorado Springs, Colo., it was that there is no magic bullet when it comes to cybersecurity.
No, the trucking industry has come too far for that. Today's trailer and truck dealers are too evolved and too advanced for one-size-fits-all solutions, and Nachbahr says any dealer looking for one should give up that search at once. Creating a functional cybersecurity plan for dealers in today's world requires a willingness and acceptance that change is mandatory. It requires the understanding that investments in internet security are not just about keeping computer systems operational but also about protecting information saved within those units.
Most importantly, Nachbahr says, it's about realizing that in today's interconnected world, everything is up for grabs if you don't protect it.
"We are seeing huge amounts of cybersecurity attacks in dealerships today and one major reason why is because many of these businesses are not equipped [to defend themselves]," says Nachbahr, whose company supports more than 700 automotive and commercial vehicle dealership locations in North America. In the commercial market, he says many dealers are still using business and security systems installed years ago that have not been updated to withstand the onslaught of new hacking methods.
Nachbahr says one of the first things dealers can do improve cybersecurity throughout their operation is reduce the number of "open" environments found throughout a business, such as employee laptops where the user has Administrator rights or situations where an employee is allowed to use a personal device for professional use. Nachbahr says the goal here to reduce the number of instances where an employee could unknowingly download click a link or download a file that leads to a malware attack or data breach.
These security measures also should be supported with employee training. Nachbahr says there are now companies that specialize in providing customizable cybersecurity training to businesses and mentions KnowBe4 and inspired eLearning as two in particular that have proved useful in the dealer space. He says among the duo's products are simple yet highly informative e-training courses that can be disseminated to employees at any time as well as a phishing email service that will send employees fake messages as a way of testing to ensure they are learning how to identify and avoid potential threats.
There's also the matter of wireless network capability and cloud backup strategies. Nachbahr ardently supports both—the former because the future of business is wireless, the latter because cloud storage is "super cheap" and because "a lot of these viruses go after your files and if you don't have them backed up you're in trouble."
And Nachbahr says if dealers are going to invest time and money enhancing their cybersecurity, it's a good idea to also take a look at their phone systems. He says a lot of times dealers' phone systems are older and less advanced than their internet services. On that note, Nachbahr says the concern isn't as much security as efficiency. He says recording all phone calls isn't a worthwhile expense unless you plan to listen to all of them, and that automated systems that slow the connection time between a customer and your team can weaken customer perceptions and reduce sales potential.
The latter is important, he adds. Unless sales are booming to a point where money is no concern, Nachbahr says it is important to "be practical and look for things you can spend money on and really help."