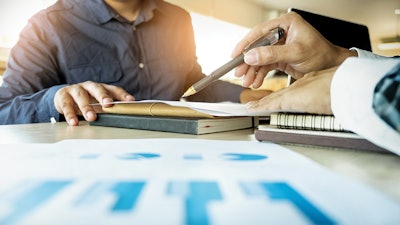 Not all customers can afford to buy a new truck. However, those who cannot buy new have other options dealers can suggest, such as leasing a truck or buying a used heavy vehicle.
The option of buy versus lease isn't all about having enough down payment and good credit scores. During discussions with customers, dealers also will consider the truck's use case while working with customers.
"If he wanted a new truck we would do our best to get him into it. If that didn't work, we would probably try to put him into a used truck; but, ultimately, we would let the customer decide," Steve Hodges, Housby sales manager, says of the options of a new, used or leased truck.
One of the misnomers of leasing, according to some industry experts, is that credit scores and proof of business stability isn't as important when leasing over buying.
Joe Gallick, NationaLease senior vice president of sales, says, "Generally speaking, poor credit or lack thereof are red flags for dealers, regardless of whether the customer's interested in a lease or purchase."
Henry Knabe III, general manager, H.K. Truck Center, agrees. "Whether they're leasing or purchasing new, cash down and strong credit history are necessary. Everyone is going to be asking for credit applications. The banks are pretty particular with who they're taking on, considering interest rates are so low." Most of the leasing providers have a pretty stringent credit application process as well, Knabe adds.
A look at leasing
Truck dealers have several leasing options to offer. This report focuses on full-service leases and, to a lesser extent, lease-to-own arrangements.
"A full-service lease is typically a new truck and all the maintenance, registration and physical damage insurance is rolled into the payment," says David W. Strand, president, Equipment Funding Solutions
[RELATED: Truck lease becoming more appealing option versus ownership]
Hodges explains further: "A full-service lease is when the customer just pays a monthly fee and basically rents the truck for whatever the term is and [when they're] done, they just turn it in," he says.
A characteristic about the full-service lease is customers only have one number to worry about, you're paying, say, $3,500 a month for a truck. You know that $3,500 a month is going to cover anything that happens for the next five years, for example. For budgeting purposes, the lease is pretty easy to factor into budgets, Housby says.
Another type of lease is a finance lease, also described as lease-to-own.
"In this scenario, the trucker would make scheduled monthly payments to the lessor throughout the term with a balloon payment at the end, at which time ownership is transferred," Gallick says.
When does it make sense to lease or purchase? Experts say a few factors can help differentiate customers.
"From a provider and customer standpoint, one of the first questions I ask: 'Is there any chance you won't need this truck because a lease is going to be [for example] five to seven years in your typical lease program. You committed to the truck for that time period and it's difficult to get out of," Knabe says.
The benefit of a full-service lease for customers is they have options to get into a heavy-duty truck without buying a new vehicle. It also can be good business for dealers if they're prepared to handle the responsibility.
Another benefit of a full-service lease "to a dealership is it's a marriage, so the customer has to continue to come back to you for the life of the agreement; they've committed to you. As long as you uphold your contract and the promises you make, you have a customer and solid business coming for [for the length of the lease]," Knabe says.
[RELATED: As-is used truck sales offer alternative to costly reconditioning]
A lease-to-own program may be an effective method for aspiring, entrepreneurial truck operators to start and build a business, Gallick says. "For an independent trucker with modest credit means, it could be a bridge from leasing a truck to ultimately owning it on the back end of the lease contract," he adds.
But clouds often accompany silver linings and there are some disadvantages and challenges with leases, for dealers and end users.
With full-service leases, Knabe says although dealers have customers who will come in regularly for maintenance, repairs, etc., those dealers must also live up to their end of the bargain for several years.
"You made a lot of promises to a customer that you have to uphold for five to seven years. Leasing is a challenge to be a provider for because there are moving points and you have promises to supply trucks in a certain timeframe and you keep that customer up and rolling and manage all their problems for them," says Knabe.
Another challenge pertains to the aforementioned credit record as well as the customer's financial situation.
Red flags include how quickly are customers growing their fleets. Have they added a lot of trucks in the last 18 months? Or has it been over a period of years of slowly growing the fleet and paying off vehicles along the way, says Hodges.
If customers are "quickly growing with a whole bunch of trucks on the books with loans and leases, that's a problem. If they're all paid for, that's a different story, but it's unlikely," he says.
"Revolving credit is another big one, like if [the customer] has a lot of credit cards. It's amazing the credit card debt you find with some of these companies but that's a big one," Hodges adds.
Gallick warns, "The caution with a lease-to-own program is it requires the trucker to be business-savvy in budgeting for preventive and unexpected maintenance, in addition to myriad other operating and administrative costs."
Many commercial truck lessors who specialize in an independent contractor business model have programs in place to help the trucker manage its escrow account and ensure a successful outcome, Gallick adds.
The used truck option
If a customer can't purchase or lease a new truck, there are benefits to used trucks.
A number of scenarios exist where a truck dealer may offer the sale or lease of a used truck instead of a new one, says Gallick.
"Traditional factors include the purchase price difference, specifications on existing trucks that may be phasing out under advancing government-mandated [greenhouse gas] regulations or the opportunity to test the 'operability' of a used truck over a shortened period, lease or ownership, before committing to new technology coming with a higher price and longer lease or ownership commitment," he says.
In addition, the extended build times experienced by OEMs because of a number of supply chain challenges have resulted in a higher demand for used trucks "simply because they're there," Gallick adds.
Nine times out of 10 Knabe says if he suggests a used truck, it's an affordability issue.
Most used truck purchasers are either new businesses or up and coming businesses that don't have a lot of credit history, Knabe says. "People start off their businesses with used trucks most of the time," he adds.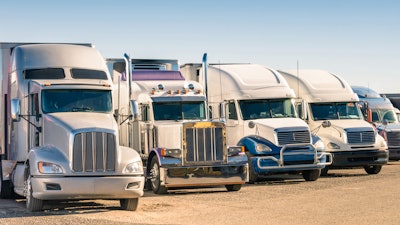 The exception would be established businesses that typically buy new but will buy used if it fits their needs.
"[Some carriers] will purchase a used truck because the usage and the need is not as demanding. It's more of a low-pressure situation where they don't necessarily want to put the money out for [a truck] they're not going to be running every day," Knabe says.
Gallick says dealers will typically assess the needs and motivation for the customer who's interested in a truck. Additionally, dealers have their own motivation to offer a used truck, based on their inventory and the market pricing and margin opportunities available at any given time.
[RELATED: Corcentric adds electronic documentation to streamline equipment leasing finance program]
Dealers want to sell or lease trucks and they have several means to help customers get into trucks. Most dealers can accommodate their customers whether it be a used or new truck purchase or through some form of loan. Dealers have some possible solutions for customers with credit issues or problem with the down payment to get their customers what they want.
"From a dealership perspective, we don't care what tool they use we just want to move trucks. Most dealers are capable and willing to do whatever it takes, from purchase to lease, whatever works for them works for us," says Hodges.