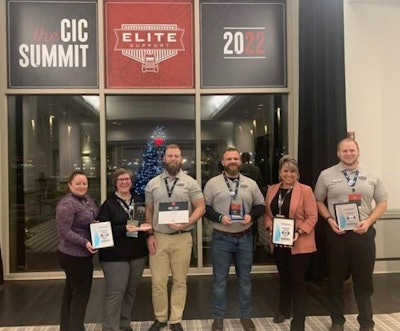 Fyda Inc. was recently presented with several awards at the 2022 Elite Support Summit held in Savannah, Ga. where more than 500 Continuous Improvement Coordinators (CIC), dealer principals, and executive leaders from the Daimler Truck North America (DTNA) network came together to share best practices and recognize continuous improvement efforts.
Derik Wells of Fyda Freightliner Cincinnati brought back four awards including the Change Management Team award, which recognizes teams who make full use of all CI tools to implement innovative, sustainable improvements in their dealerships. Other awards included the Parts Performance Development Award, Truck Sales Performance Development Award and Service Performance Development Award.
Kara Ellis, CIC for Fyda Freightliner Columbus and Fyda Freightliner Western Star Zanesville, Ohio, was given the Elephant Award, which recognizes Excellence in Continuous Improvement Leadership.
[RELATED: DTNA soliciting new suppliers, accepting applications now]
Dan Ruhe, general manager for both the Cincinnati and Walton, Ky., dealerships stated that "Special recognition went to Derik Wells for overseeing all the efforts of the CICs in all seven Fyda locations in Ohio, Kentucky and Pennsylvania. His leadership has been instrumental in moving the needle as it relates to Elite Support. We are incredibly proud of him and Kara, and our entire CIC Team and efforts across all Fyda dealerships."
Fyda Freightliner is a certified member of the Elite Support Dealer Network of DTNA and is held to the highest customer service standards in the trucking industry. To be Elite Support Certified, more than 100 specific criteria across several customer service areas must be met. All seven Fyda locations have earned this prestigious certification, the company says.