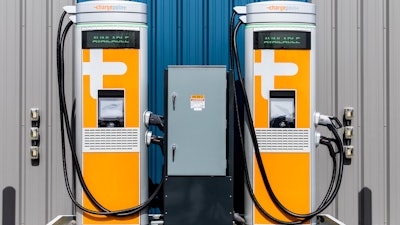 Kriete Group
Another way alternative powertrains will alter traditional dealer operations is by transforming revenue streams. Regarding electric trucks in particular, manufacturers say the reduction in vehicle componentry and propulsion systems will reduce maintenance and service needs, creating fewer revenue opportunities for fixed operations departments.
High acquisition costs and warranty programs, especially during the early proliferation of this technology in the trucking industry, will help dealers offset some of this revenue loss. But over time, as new EV prices approach parity with diesel technology and the systems found within the EVs improve, dealers may choose to consider secondary revenue streams to support their alternative power operations.
"Dealer margins are going to change," says John Waterman, energy services manager at ETHERO Truck + Energy. "You don't have the same amount of moving parts on an EV so you're not going to be changing out parts very often."
Selling and supporting charging
One new frontier revenue stream ETHERO has targeted is charging. Waterman says in addition to its truck sales and support expertise, the dealer group also is selling and servicing charging equipment and providing consultation on charging infrastructure projects. He says by fully committing to all truck and energy needs, ETHERO can be a one-stop solutions provider for customers once they begin their electrification journey.
"We don't just want to sell the truck or the charger. We want to help advance the adoption of these vehicles by helping customers with every aspect of their purchase and entrance into the EV space," he says. "And the charging piece is really the most important part [of adoption]. If we can't ensure a truck is charged and ready to back out on the road when it's needed, EVs are never going to work."
Alta eMobility has built a similar business plan for its truck dealer operation, says David Breault, business development manager, eMobility.
"A lot of people overlook the charger and you can't do that. The charger is just as important as the truck. We are training customers on how to visually inspect their chargers and encouraging [preventive maintenance] schedules for charging equipment," he says.
Understanding how to sell charging equipment will increase customer satisfaction of EV purchases as well. Breault says Alta has potential usage conversations with customers to understand their duty cycles and charging expectations, then recommends charging products to best fit their businesses. ETHERO does the same, Waterman says.
"Charging is really customer specific," says Breault. "Two fleets can buy the same truck but use them differently and require different charging."
"We generally recommend a charger for every [EV] customer based on their application," says Tom Del Gaudio, new vehicle sales manager at Hudson County Motors. "We aren't selling the truck but the whole system. We want the customer to be able to use the truck the way they are intending."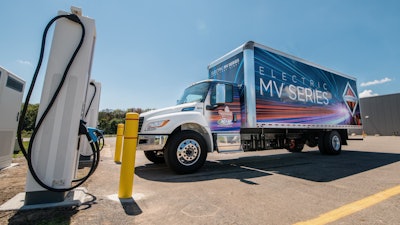 Heliox, which has partnered with Volvo Trucks North America, Paccar and Cummins, recommends two charging solutions for the commercial truck space — a 50 kilowatt (kW) mobile charger and a Flex 180 kW system, says Andy Bartosh, business development manager.
Bartosh says the mobile solution offers flexibility that is useful in service shops — where trucks may only need charging access for brief movement or testing — and with fleets using medium-duty equipment or applications like yard trucks where equipment requires access to charging at all points during a day.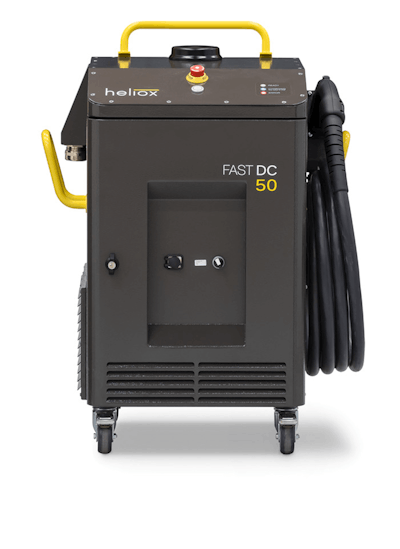 With heavy-duty trucks, Bartosh says Flex 180 kW chargers make the most sense. He says Heliox's Flex product is particularly valuable because it can distribute power across three charging columns from one dispenser. Three trucks charging from a single dispenser will take three times as long as a single unit, but Bartosh says if those trucks are being charged overnight, the Flex unit will still provide enough support to fully charge all three before the next day's work begins.
He says this is useful for customers who want to support multi-vehicle charging but lack the space or capital to invest in larger kW multi-port cabinet charging solutions.
Selling energy
For dealers who can make the investment, becoming an energy provider is another available revenue stream. North America's charging grid for heavy trucks is growing, but still sparse. Dealers in regions where EV adoption projects to be substantial can build their own charging stations and make them available for public use.
Bartosh recommends dealers gauge customer interest for public charging before investing in large charging developments. He says Heliox is working with a third-party vendor to develop a kiosk payment solution for its chargers so dealers could effectively build their own public stations. The challenge with public charging is pricing the electricity, he says.
"A customer charging at 6 p.m. should be charged a different price than a customer charging at 4 a.m.," he says.
Even if a dealer doesn't intend to create a truly public charging solution, pricing should be considered if a dealer intends to offer charging to customers. Similar to the post-service event fill up, if a dealer is going to fully charge all trucks that exit their service facilities, a charging surcharge should be a line item on a repair order.
"If you charge a truck overnight and it's going to cost $30, do you want a $50 service fee? You have to make those decisions," Bartosh says.
In Wisconsin, Kriete Group recently installed two charging stations at its Madison facility to support the city, which has already purchased multiple Class 8 EVs from Kriete Group and has a keen interest in furthering its sustainability, says President and CEO David Kriete. He says the city's enthusiasm for the technology will lead the dealer group to consider similar projects at its other locations.
"The rest of Kriete's footprint will likely have to undergo site upgrades to prepare for EV statewide. Kriete has invested proactively in its sales, service and parts personnel to be well-equipped to date. Further investments will have to be made in electrical capacity and in charging stations at more dealership rooftops as demand for these alternative powertrains increases, or as government mandates increase," he says.
Keep up with our special report on trucking's transition to cleaner trucks:
Part I: This isn't trucking's first fueling and propulsion revolution
Part II: Why are we doing this?
Part III: What constitutes as 'alternative power'?
Part IV: What will drive — or inhibit — alternative power adoption?
Part V: Performing an alternative power market analysis
Part VI: What it takes to install charging infrastructure
Part VII: Training on alternative powertrains vital to employee safety, business success
Part VIII: The challenges of building your best EV service bay
Part IX: Making the case: How to effectively sell alternative power