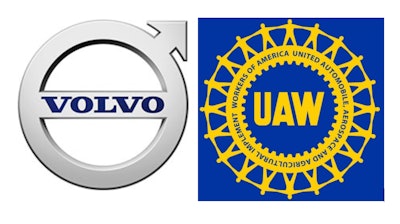 Volvo Trucks North America and the United Auto Workers announced a tentative agreement to their labor dispute. When the two sides couldn't reach a deal nearly two weeks ago, the workers went on strike at Volvo's Virginia operations.
The deal involves a new five-year contract that would cover approximately 2,900 employees at the New River Valley (NRV) truck assembly operations in Dublin, VA. In conjunction with the tentative agreement, the UAW has ended its strike against the NRV plant, effective 7 a.m., April 30, 2021. Production will resume on Monday, May 3, 2021.
"UAW members showed incredible solidarity on the picket lines and have achieved significant gains toward fair pay, benefits and job security protections," says Ray Curry, UAW secretary-treasurer and director of the UAW Heavy Truck Department,.
Mitchell Smith, director of UAW Region 8, says, "The stress of a strike is never easy on a member or their family, particularly in these uncertain times. We can't thank enough the surrounding communities for the outpouring of support for our striking families."
Both sides say further comment and details on the proposed agreement are being withheld pending ratification by the members of UAW Local #2069. Ratification meetings are being scheduled by the UAW.