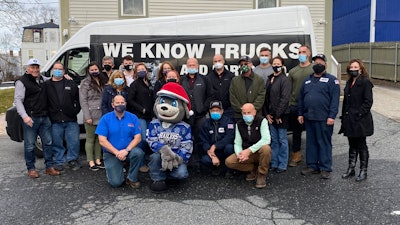 As the increased need for food assistance persists as a result of the pandemic, Advantage Truck Group (ATG) is continuing its Haulin' 4 Hunger donations from Dec. 13-22, to help provide meals to people facing hunger in communities near ATG locations throughout New England.  
Through Haulin' 4 Hunger, ATG will deliver over 3,500 fresh meals to eight food pantry organizations in Central Massachusetts to support those in need this holiday season, and make its fourth quarter donations of non-perishable foods to six organizations in three states.   
"We are proud to continue our tradition of helping others by fighting food insecurity in our communities, and are grateful for the support that our employees, customers and other partners have for this program," says Kevin G. Holmes, president and CEO, ATG. "As we continue to grow our network across New England, we are committed to bringing Haulin' 4 Hunger to every area where we operate."
The Haulin' 4 Hunger week of giving included donations of fresh meals on Dec. 16, when ATG and its team led a caravan of trucks from its Shrewsbury, Mass., headquarters and hand-deliver over 3,500 holiday meals of turkeys, along with assorted fixings, to organizations offering food pantries and other services in its local communities.
Deliveries were made throughout the day, with eight organizations receiving fresh meal donations:
Abby's House
Friendly House
Jeremiah's Inn and Food Pantry
Marlborough Community Cupboard 
South Worcester Neighborhood Center
St. Anne's Human Services
St. John's Food for the Poor Program
Veterans, Inc.
At ATG's other locations in Massachusetts, New Hampshire and Vermont, employees selected food pantry organizations that provide support to residents in their local communities to receive non-perishable food donations through Haulin' 4 Hunger. Deliveries of this quarter's bulk donations were made to six hunger relief organizations:
Our Community Table – near ATG Westfield
Fall Mountain Food Shelf – near ATG Westminster
LISTEN Food Pantry – near ATG Lebanon
Rockingham Community Action – near ATG Seabrook
Raynham Food Basket – near ATG Raynham
New Hampshire Food Bank – near ATG Manchester 
"Each of the organizations we support through Haulin' 4 Hunger are working to ensure those facing hardships have enough food to eat during the holidays and every day, and we are honored to help them in this critical effort," says Holmes.
ATG's Haulin' 4 Hunger initiative is made possible with the commitment of its employees, customers and partners. With support from local businesses, including G. Lopes Construction, Dennis K. Burke, McDevitt Trucks and UniBank, Haulin' 4 Hunger has helped bring food to the people who need it most. Through last year's partnerships, ATG doubled its donations and expanded support to 12 food pantry organizations, responding to the increased need for food assistance in the midst of the COVID-19 pandemic.
Since its launch in 2012, ATG and its Haulin' 4 Hunger team has dedicated countless hours to collect, sort, package and deliver food for those in need – to date helping to provide more than 26,000 meals to 14 food pantry organizations across three states, ATG says.