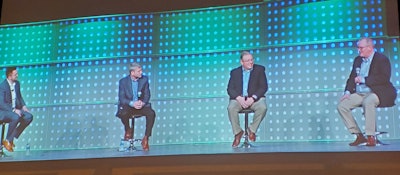 The importance of transparency throughout the supply chain and hiring quality employees were the foci of the session "Conversations that Matter: How is Our Industry Adapting to Supply Chain Challenges?" held Tuesday at Heavy Duty Aftermarket Week 2022.
"We were very fortunate because in February 2021 right when things started to crash, we moved to a cloud-based business management system and I can look at the inventory at every one of our locations, all their sales, lost sales and order requests," enabling the company to adjust inventory, said Cliff Hovis, president, Hovis Auto & Truck Supply.
"We're all business partners, from the fleet to the manufacturer and communicating [is important] to let me know what's going on so I know whether to buy brake drums today, brake fluid tomorrow, brake rotors the next day," Hovis said.
"Overall, our inventory is as high as it's been, but we still have to get that product out to our customers. We [offer] a lot of kits in our operation and if you're missing one piece of it you have to get that before you can complete those orders," said Doug Dole, general manager, aftermarket product strategy, Meritor.
"What we need is transparency through the supply chain from the fleet all the way back to the manufacturers," Dole added.
Mike McDonald, director of maintenance, Benore Logistics, said a big focus has been placed on the company's distributor to let him know if they foresee a shortage of something. "And we pre-bought certain items if I foresaw a shortage really getting out of control," he said.
"We've had the same issues everybody's had. We've had port issues and logistics issues, but certainly our biggest issue has been and continues to be getting enough of the right people," Dole said.
"In October some of the government subsidies went away and that's helped us quite a bit. We've gotten creative with wage and hiring practices implemented. We're getting staffed up and are about where we need to be but now it's about digging ourselves out of a hole that's been created because you couldn't get people and orders were extremely high. Staffing for sure has been the biggest issue for us," he said.
"We have to be able to retain our people. We must have retention policies in place. They're the ones who make a difference; they're the ones who get the job done. If you don't have good people, you're not going to survive," Dole said.
McDonald noted, "We had to restructure our pay and benefits to be competitive. I called all the other shops in town, dealers, etc., and asked, 'What are you paying,' and they were open and transparent because they want my business. If they said it's none of my business then I would have said if it's none of my business, then my business is none of your business."
Hovis said this industry remains a people business and that people are everything. "Every employee I hire I tell them you can either put in time or you can become something. And the only way my company is going to grow is if you become something."