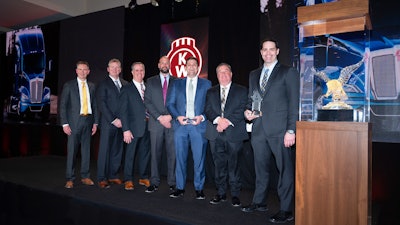 MHC Kenworth – Colorado received the 2021 Kenworth Dealer of the Year Award for the United States and Canada at the recent annual Kenworth Dealer Meeting held in Marana, Ariz.
"It is a great honor for MHC Kenworth – Colorado to receive the Kenworth Dealer of the Year award for a record eighth time, and fourth time since 2010," says Tim Spurgeon, president of MHC Kenworth, which operates 77 Kenworth dealerships in 16 states. "This award was achieved through the dedication of our employees and their daily commitment to provide excellent support in every area of our business. We especially thank our customers for their continued business."
"It's gratifying to be recognized for our efforts among many outstanding Kenworth dealers," adds Josh Schwartz, MHC Kenworth regional vice president. "Our employees have worked hard to give customers award-winning service, and we are truly honored to receive this award."
MHC Kenworth – Colorado earned the 2021 Kenworth Dealer of the Year Award through exceptional performance highlighted by an outstanding record in dealer excellence measurement categories, says Kevin Baney, Kenworth general manager and Paccar vice president. 
[RELATED: Peterbilt names 2021 North American Dealer of the Year]
"MHC Kenworth – Colorado has been among the top Kenworth dealers for many years. Congratulations to The World's Best Dealer for 2021," Baney says.
Additionally, MHC Kenworth – Colorado achieved new truck sales market share of 22 percent (heavy-duty) and 27 percent (medium-duty), along with a 50 percent Paccar engine sales mix. The dealer had many appearances in the 2021 Kenworth "Top Ten" rankings for dealer excellence, led by Kenworth PremierCare Gold attainment, overall facilities score, service operations, service velocity and extended service hours. 
To help drive customer uptime, MHC Kenworth – Colorado operates 22 mobile service trucks around the clock across its dealerships located in Colorado Springs, Denver, Grand Junction, Greeley and Pueblo, Colorado; and Cheyenne, Wyoming. The 2021 Dealer of the Year also operates three other facilities in Colorado – a Road Ready Center (Greeley), parts only store (Parker), and TRP parts and service store (Henderson).
Kenworth also presented eight Gold and eight Silver dealer awards, its first-ever Kenworth PremierCare Gold honor, as well as Paccar Engines, Medium Duty, Parts and Service, and TRP All-Makes Dealer of the Year awards at its recent meeting.
Kenworth says its Gold Award is presented to a select number of Kenworth dealers each year that achieve the highest level of performance in the Kenworth network. MHC Kenworth – Colorado was selected as Kenworth Dealer of the Year from among Kenworth's eight Gold Award winners for 2021. Other Gold award winners are CIT Trucks, Kenworth Maska, Kenworth of Louisiana, Kenworth Sales Company, MHC Kenworth – Kansas City, Truckworx Kenworth and Wallwork Kenworth. 
In addition, CIT Trucks received the first-ever Kenworth PremierCare Gold Dealer of the Year award. All 10 of its dealerships have earned Kenworth PremierCare Gold certification. The dealer excelled in key service excellence metrics, including service operations, call center response, service bay velocity, and percent of engine technicians certified on Paccar MX engines.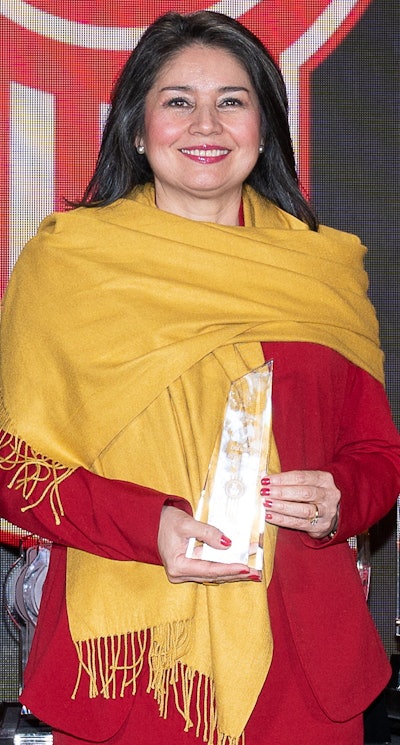 Lily Ley, Paccar vice president and chief information officer, was presented with the "Kenworth Industry Impact Award." The award annually honors an outstanding leader who serves or is a member of the Kenworth dealer network who has had a significant impact in the broader trucking industry, Kenworth says.
During the Kenworth Dealer Meeting, Kenworth also recognized its eight Silver Award winners: Kenworth of Indianapolis, Kenworth of Jacksonville, MHC Kenworth – Georgia, MHC Kenworth – Oklahoma, MHC Kenworth – Texas, Motor Power Kenworth – Billings, NorCal Kenworth, and Wichita Kenworth.
Kenworth of Louisiana received Kenworth's Paccar Engines Dealer of the Year honors. The dealer achieved an impressive 60 percent Paccar MX engine sales mix sold to a diverse customer base. Highly trained Paccar MX technicians, extended service hours and 24/7 mobile service units aided customer uptime. 
Truck Enterprises was named Kenworth Medium Duty Dealer of the Year. The award winner sold Kenworth medium duty trucks for such applications as towing, paving, movers, construction, government, utility, beverage and petroleum haulers. The dealership offers extended night and weekend service hours at all eight of its dealerships. 
CIT Trucks captured the Kenworth Parts and Service Dealer of the Year award. The dealer finished near the top in the parts and service components of Kenworth dealer excellence measurements. The award winner increased eCommerce sales by 43 percent, and both retail sales and parts fleet service business by 23 percent. 
Inland Kenworth received the Kenworth TRP All-Makes Dealer of the Year honor. The dealer increased purchase volume (34 percent), overall parts purchases (20 percent), retail sales (24 percent), and Paccar Parts Fleet Services business (28 percent). This dealer group operates five TRP stores, which retailed significant parts sales.
 Kenworth also celebrated major Kenworth dealer anniversary milestones reached in 2021: 60 years –  Hissong Kenworth (Richfield, Ohio); 55 years – Kenworth of Indianapolis (Indianapolis, Ind.); 50 years – Wichita Kenworth (Wichita, Kansas); and 35 years – Worldwide Equipment (Prestonsburg, Ky.)