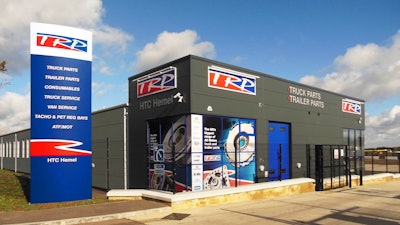 Paccar Parts recognizes TRP Hemel in Hemel Hempstead, United Kingdom, as the 2021 Global TRP Store of the Year.
"The commitment from TRP Hemel in growing the TRP brand and business is exemplified through its excellent customer service and offering of high-quality TRP products," says Dick Leek, Paccar Parts general manager - Europe.
TRP Hemel is located north of London in a busy transportation hub. The store was awarded for its exceptional training and development of sales and service staff and for ensuring the right parts are in stock at the right time. TRP says the store also uses Paccar Parts e-commerce tools and dealer management systems to provide industry-leading retail availability for customers and deliver outstanding customer service. TRP Hemel operates 10 service bays to maximize uptime for all makes of trucks, trailers, buses and light-duty vehicles.
"This award is a tremendous honor for TRP Hemel and a wonderful recognition of our hardworking and dedicated staff," says Peter Gibbons, HTC Group director of aftersales. "We take pride in delivering outstanding quality and value to all of our customers."
The HTC Group opened TRP Hemel in April 2013 as the UK's first TRP store. The store uses the full TRP product offering and works closely with DAF in the UK to develop the best line of products on the market.
"Paccar Parts values its relationship with the HTC Group and appreciates TRP Hemel's commitment to customer uptime," says Laura Bloch, Paccar Parts general manager and Paccar vice president. "TRP stores are uniquely positioned around the world to provide value-added services to customers such as excellent parts availability with a broad product offering, e-commerce, delivery services and customer loyalty programs."