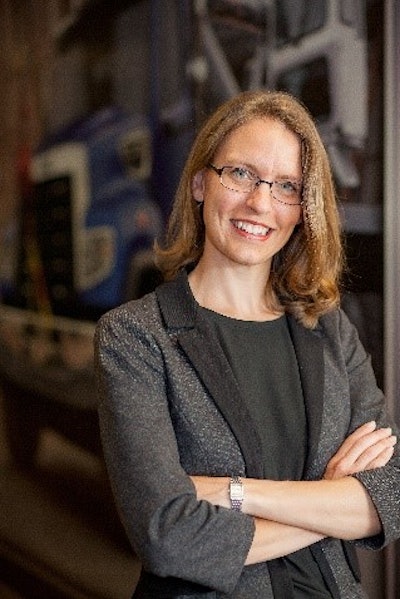 Mary Aufdemberg, general manager of product strategy and market development for Daimler Trucks North America, will deliver the keynote address at the Green Truck Summit during Work Truck Week in March.
[RELATED: NTEA releases schedule for Work Truck Week 2024]
"While most of Work Truck Week is focused on commercial vehicles, equipment and technology available now, Green Truck Summit is all about what's happening in the future, exploring where the industry is moving and how we are getting there," says Nikki Wilson, NTEA senior director of member services. "We're excited to welcome Mary Aufdemberg and all our panelists to share their vision of the industry's progress over the next five years."
The Green Truck Summit, which offers programs focused on the evolution of the commercial vehicle landscape as it shifts toward zero emissions, is part of Work Truck Week. Also part of Work Truck Week are the NTEA Annual Meeting, Ride & Drive, educational sessions and a trade show. It is designed to help even the smallest operations make informed decisions, NTEA says.
Work Truck Week runs March 5-8. The Green Truck Summit is March 5, educational sessions will be March 5-7 and exhibits will be open March 6-8.
[RELATED: NTEA announces speakers for economic and technical sessions at 2024 event]
Aufdemberg is responsible for platform strategy, market development, brand management, marketing communications and marketing operations for DTNA's Freightliner and Western Star truck brands, as well as for the company's proprietary parts brand, Detroit.
She will deliver her keynote at 8:40 a.m. March 5. Aufdemberg will be followed by "Fueling the Future: Fleet Perspectives on Advanced Fuel Solutions," featuring fleet leaders from DTE Energy; Cobb County, Georgia; and Bimbo Bakeries USA. Next will come "Chassis OEMs' Vision for Advanced Vehicle and Fuel Technology," with representatives from GM Evolve, Isuzu Commercial Truck of America and Navistar.
After lunch, Tim Campbell, managing director of Campbell's Consultancy, will provide a global perspective on advanced fuel solutions and potential effects on the North American market in "Advanced Fuels: Global Market Trends." That will be followed by breakout sessions on topics including EV charging impacts on the utility grid, natural gas fuel options, safety considerations for advanced fuel vehicles, getting started with hydrogen and fuel cell technologies, ePTO considerations and product updates.
Green Truck Summit participants are then invited to the closing session at 4:30 p.m. During that session, current and past leaders of the NTEA Green Truck Association will highlight key elements of the day's sessions and discussing issues affecting the work truck industry. The summit will then conclude with a reception at 5 p.m.
Registration for the Green Truck Summit also earns attendees access to Work Truck Week breakout sessions March 5-7, Work Truck Show exhibits, Work Truck Week Ride & Drive, WTW Workforce Development Sessions March 6-7, lunch March 6-7, and on-demand educational materials after Work Truck Week 2024.