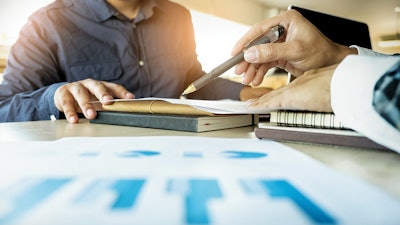 When selling equipment, it can be easy to overlook the earning potential of a strong F&I department. All dealers need someone on hand who can evaluate a potential customer's purchasing and financial capabilities, but an F&I department can provide much more than peace of mind for sellers.
A properly run F&I department serves not only to ensure customers can afford a truck or trailer, but also to directly help them finance the purchase. F&I departments marketed as a customer resource — included early in sales interactions and called upon whenever customers have any financing uncertainty — have stronger sales penetration rates, increase dealer revenues and can become as valuable as any profit center in a dealer operation.
"Selling a $175,000 truck to a customer sometimes comes with sticker shock and can be a challenge and intimidating to a customer. They don't know how they will pay for it or how a $175,000 purchase plays into a financial statement or how that will affect their cash flow. It's much easier to sell a $3,500 monthly payment," says Ann Brodette, managing director of transportation, ENGS Commercial Finance. "Customers can understand that figure, and they can back into that number by knowing how much they can earn a month."
She adds, "Bottom line, by offering financing, [dealers] can sell more trucks and earn dealer rewards from lenders, creating more revenue for the dealership."
Improving F&I penetration rates is particularly useful in the current sales climate, where new equipment production caps and low used equipment supply are limiting the number of available units dealers can sell each month. Though F&I departments represent a small share of total sales for most dealers, they often have the greatest growth potential across departments.
Profit margins on new trucks and trailers are often negotiated depending on a customer's order size and unit specifications. In the used market, units acquired and turned quickly (with or without reconditioning) fetch higher margins than units that languish on lots for months, though in both cases the net profit is likely less than a new equipment sale. Profit margins are universally better in service departments where labor rates can be leveraged, but growth potential often is limited by the size of a service shop and technician productivity.
[RELATED: How leasing companies are responding to increased customer demand]
F&I department profitability doesn't face as many challenges. Because revenue is achieved through dealer reserve payments from lenders, dealers make money every time a loan is secured. And with current F&I penetration rates so low, there are a lot of customers who can be targeted for F&I department growth.
According to the most recent Data report from the American Truck Dealers (ATD), F&I penetration on new truck sales was 11.3 percent in 2020. That was the lowest number reported by ATD since 11.1 percent in 2015, and down substantially from a recent high of 21.4 percent in 2017. The used market was even weaker; its 4.1 percent penetration rate was its best in three years but well below the 18.1 and 12.7 percent achieved in 2016 and 2017.
Yet most customers do need financing. West Michigan International (WMI) and K&R Truck Sales F&I Manager Kim Busscher says nearly 80 percent of the customers she encounters require financing when they engage in an equipment purchase. She says some customers are open to the dealer's loan options, while others prefer to bring in their own lenders. Some big fleets also pay cash or have their own financing, she says.
That tracks with a recent survey of small fleets and owner-operators by Trucks, Parts, Service sister publication Overdrive, which revealed only 19 percent of new truck buyers and 38 percent of used truck buyers paid cash for their most recent equipment purchase.
"Most of the customers we see require some degree of financing," says Lisa Mick, finance manager, Rihm Kenworth. "How much depends on the customer."
Mick says her department, which is currently adding team members, typically enters a transaction at a salesperson's request. Rihm salespeople are trained to ask about a customer's financing plans early during a sales dialogue. The dealer has partnerships with nearly 20 lenders, which means oftentimes Rihm can offer customers a financing solution that meets their down payment and monthly payment goals.
ENGS advises similar sales tactics to its more than 3,000 dealer partners, says Brodette.
"Have the salespeople ask questions early in the sale and every sale," he says. "Educating the consumer that he should establish commercial credit is very important. You may be able to offer the customer a better product suited to his type of business and get him a lower rate and make money for the dealership. It can be a win-win for all parties."
And finding a great deal is just one of the customer-facing benefits of improved F&I penetration. Busscher says securing financing through WMI's lender partners often results in faster loan closing times because lenders have an established, existing relationship with the point-of-sale. Ancillary expenses also are streamlined for titling, insurance, aftermarket warranties, etc.
"It makes the purchasing experience extremely easy for the customer," says Mick. "They don't have to spend weeks shopping around looking for financing. We can provide them everything they need … and after the sale they can come to us with any questions they may have."
That one-stop shop potential should not be overlooked. Dealers often market their sales, parts and service departments as a single customer service entity; F&I departments can be included in those campaigns. Customers are drawn to consistency and reliability. F&I departments enable dealers to become total solutions providers capable of address all equipment needs for end users.
"We walk everyone through our process so they know exactly how it works. We want them to understand," adds Mick. "If they feel welcome, we believe they will come back and purchase again."
And as F&I penetration deepens, so too will dealer profits. In a market like this one, where equipment supply continues to limit top-line sales revenue, selling and financing 12 trucks may be more profitable for a dealer than just selling 20 because of the loan reserve payments.
Brodette says ENGS tries to convey that when meeting with any dealer customer but admits that even today some dealers remain apprehensive about investing more than the bare minimum in their F&I departments. "Often dealer principals don't want to invest in an F&I manager because they don't understand the additional revenue and, frankly, sales they could be getting, if they had a dedicated financing person or team."
Which is why ENGS also invests heavily in training, to ensure any dealer that is serious about increasing F&I revenues can succeed.
"If the F&I team is seasoned, they don't need much training on how to present financing to customers, but some dealerships are not that experienced. If they don't have a strong F&I team, we will certainly train them and offer suggestions on how to sell the financing," Brodette says.