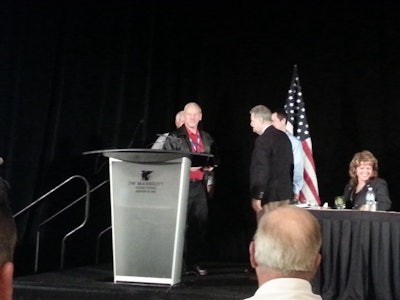 Jim Redwine entered the heavy-duty aftermarket in 1973 with one service bay and the best of intentions.
On Thursday he was awarded for his decision, being named the 2013 HDA Truck Pride Truck Service Expert of the Year at the organization's annual meeting in Phoenix.
"When my sons and I started out we were willing to work with good strong backs, average common sense and a hope that we could make a living," Redwine says
Redwine opened his business, Redwine Garage Parts and Service, in a tiny building in North Carolina. The bay was so small truck mirrors had to be tucked in to fit Class 8 trucks inside. The business has now grown to support two locations with six double bays and five single-size bays. It has 18 technicians and five mobile service trucks.
Supported by 2010 Truck Parts &  Service Distributor of the Year Stone Truck Parts, Redwine says his decision to affiliate his business with HDA Truck Pride has been vital to the company's growth.
"You have helped get [our business] out there in front of the truckers of the world," he says. "Without our vendors we would not be here today."
Redwine joined the Truck Service Expert program in 2011 and supports the program with signage throughout his business, as well as billboards on I-95 near the North Carolina and Virginia borders.