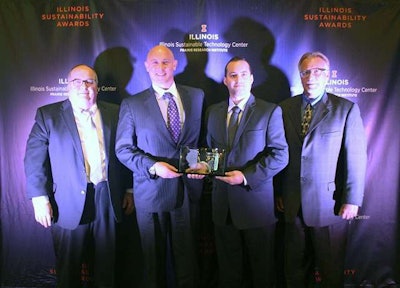 NTN announces NTN-Bower Corporation in Macomb, Ill., was recently presented with a 2017 Illinois Sustainability Award by the Illinois Sustainable Technology Center.
The Illinois Sustainability Award is the nation's longest-running state award for excellence in environmental performance, NTN says. Illinois Sustainability Award winners are an elite group of committed leaders reducing environmental impact and contributing to the growth of a more sustainable Illinois economy.
NTN-Bower manufactures bearing and bearing related sub-assemblies servicing the industrial, agricultural and automotive markets. Their campus in Macomb consists of two manufacturing facilities. Through the implementation of twelve separate initiatives in 2016, NTN-Bower made significant efforts to reduce energy and water consumption in its goal towards sustainability, the company says.
"At NTN-Bower we are committed to understanding and reducing the environmental impact of our business, both today and for the NTN-Bower of the future. We take a proactive approach at finding sustainable solutions and strive to build partnerships with those who share in our focus, and who can aid us towards these goals," says Steve Hensley, vice president and treasurer at NTN-Bower Corporation.
NTN-Bower says it redesigned and upgraded its lighting systems to LEDs and installed occupancy sensors throughout the two facilities. As a result they were able to reduce annual energy costs and eliminate 40 inefficient high-bay lighting fixtures. They also installed lighting controls that are integrated with their building automation system to automate light scheduling. Other energy saving projects included reducing compressed air usage, and replacing standard drive equipment with more efficient variable frequency drive equipment. Total energy savings from these initiatives equates to approximately 4 million kWh annually, enough to power over 400 average homes for a year, the company says.
NTN-Bower's production expansion led to reengineering their water usage processes. The addition of a centrifugal separation system allows processed water to be reused. NTN says other upgrades to their facility's boilers, cooling towers, reverse osmosis filtration and waste water treatment systems has enabled them to eliminate the storage and use of 280,000 lbs. of hazardous chemicals and eliminate the treatment of over 463,000 gallons of waste water. Together, these projects resulted in the annual reduction of 1.4 million gallons of water consumption, enough to do over 70,000 loads of laundry, the company says.
Through employee and community engagement initiatives, they have also installed water bottle filling stations throughout the plant. These stations have eliminated an estimated 38,862 disposable water bottles from the waste stream. NTN-Bower has prioritized sustainability throughout their operations and culture, and serves as a model within the industry and community; this 2017 Illinois Sustainability Award represents a validation of all of NTN-Bower's efforts, the company says.