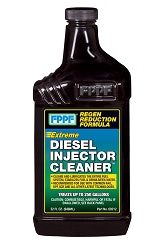 Wow, does time ever fly. It seems like just yesterday we were announcing our Top 10 aftermarket products of last year. December sure got here in a hurry, didn't it?
Anyway, it's once again time to countdown the Top 10 aftermarket products of 2017.
As you may remember from previous years, the Truck Parts & Service Top 10 countdown is determined solely by reader interest—page views of new product releases posted here during the past calendar year. Beginning today, we will release one new Top 10 product each weekday (except Christmas) for the remainder of the year.
We begin this year's countdown with FPPF Chemical Solutions' Extreme Diesel Injector Cleaner – Regen Reduction Formula.
A first-time participant in our Top 10, FPPF introduced its diesel injector cleaner in July.
The company says the cleaner was developed at the behest of customer demand, as the market requested an additive that reduces the number of all types of regenerations (active, passive, and forced). Extreme Diesel Injector Cleaner – Regen Reduction Formula is a blend of concentrated detergents that break down carbon deposits, significantly reducing build up in Diesel Particulate Filters with regular use.
It is available in a 32 oz. bottle (treats up to 250 gallons); a 5 gallon pail (treats up to 5,000 gallons); and a 55 gallon drum (treats up to 55,000 gallons). The former is available in cases of 12, the latter for individual purchase, FPPF says.
To read the original release in its entirety, please CLICK HERE.
And be sure to check back again Monday as product No. 9 will be released.