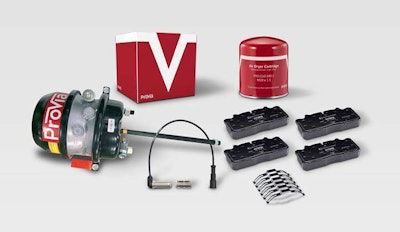 WABCO announced Monday it will premiere its differentiating budget spare parts brand ProVia at Heavy Duty Aftermarket Week (HDAW) 2018 this week in Las Vegas.
WABCO says ProVia parts are specifically engineered to provide reliable performance and are manufactured to industry-leading standards. ProVia helps customers to bridge the gap between parts of questionable origin and premium aftermarket parts, striking a powerful balance between safety, reliability and cost, the company says.
WABCO will highlight at HDAW a number of WABCO- and ProVia-branded parts exclusively available through WABCO's North American aftermarket organization or distributor network.
Among the ProVia products scheduled to display are:
Brake pads: ProVia brake pads cover the most commonly used air disc brakes in leading truck and trailer platforms in North America. WABCO says ProVia brake pads come with approximately 10 different kits that offer replacement alternatives for more than 120 part numbers of various commercial vehicle builders.
Spring brake chambers: ProVia offers low cost and high-performance brake chambers with a universal design to cover a wide range of applications in the truck, bus, and off-highway vehicle segments. ProVia brake chambers perform significantly more operating cycles than comparable budget parts ensuring a longer working life, the company says.
WABCO says it also will display the following WABCO parts:
Air Disc Brakes (ADBs): WABCO MAXXUS heavy-duty ADB for trucks delivers high-performance braking power fueled by its industry-leading single-piston design. With 25 percent fewer parts, WABCO says its ADBs feature superior reliability, faster serviceability and expanded service intervals of up to twice that of traditional drum brakes. In addition, WABCO MAXXUS ADB reduces stopping distances up to 10 percent compared to today's average drum brakes, the company says.
WABCO EasyFit Automatic Slack Adjuster: WABCO EasyFit is a maintenance-free brake adjuster with clearance sensing, the most efficient adjustment design. Simple and quick to install, it maintains a constant clearance between brake lining and drum even under extreme temperature conditions and features best-in-class corrosion protection. WABCO EasyFit significantly reduces service costs as it eliminates the need for quarterly brake service, the company says.
"We are excited to showcase at HDAW 2018 WABCO's extensive aftermarket product portfolio benefiting distributors, workshops and fleet operators in North America," says Abe Aon, WABCO North America sales leader, Aftermarket. "HDAW is the ideal platform to feature our new offerings for Sheppard steering gears and to introduce our new budget spare parts brand ProVia which perfectly balances product safety, reliability and cost."