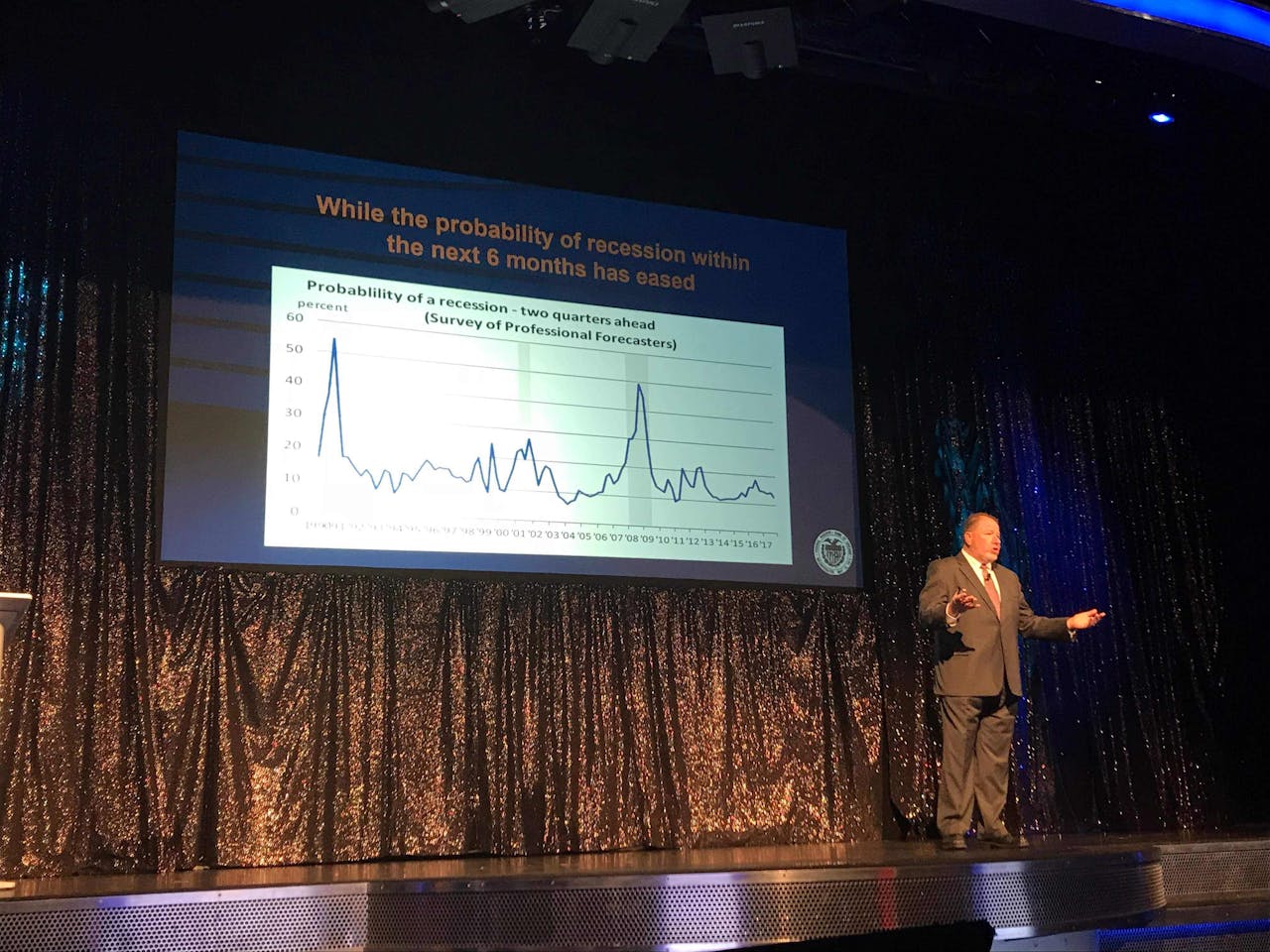 The United States economy is within striking range of a record. If the economy can maintain its growth trajectory through this year and into 2019, it could set a record for the longest uninterrupted period of economic growth in the nation's history.
Teasing an economic goal more than a year in the future may seem ostentatious, but during a presentation Monday at Heavy Duty Aftermarket Dialogue before Heavy Duty Aftermarket Week (HDAW) 2018 in Las Vegas, Bill Strauss, senior economist and economic advisor at the Chicago Federal Reserve, says there are clear reasons to be optimistic.
"We're growing, but our growth is so modest," he says. Month-over-month and year-over-year GDP gains are barely above normal trends lines and well below previous rates seen during long periods of constant growth. Coupled with industry growth across manufacturing, housing, energy sectors, falling unemployment rates and steady inflation numbers, Strauss says there is "still slack" in the economy.
"The risks domestically are very muted," he says. "I don't see any sectors that have jackrabbited ahead." If there are concerns, they will likely be due to overseas economic changes.
And during a Q&A session after his presentation with Accuride President and CEO Rick Dauch, Strauss says his biggest overseas concern is China. He says the Chinese economy GDP is expected to slip from 2017 to 2019 and beyond, and eventually, it's going to slow enough to that some of the warts within that economy will become visible. He quotes Warren Buffett in saying sometimes "you don't know who is swimming naked until the tide goes out," and adds "you can't keep running unprofitable businesses forever."
Things are much better in North America. Strauss says final U.S. economic data will be available later this month, and he expects final GDP numbers to exceed his previous yearly prediction (from HDAD 2017) for the first time.
"I'd give maybe a B+ on my forecast for last year," he says. "For the first time in a long time I've erred on the low side."
For 2018 and 2019, Strauss says both the Federal Reserve and Blue Chip are expecting GDP growth to remain in the mid 2 percent area. He says low fuel prices are driving a huge influx in the popularity of light-duty trucks (December 2017 was the best month for light-duty sales in history), while the hurricanes and flooding of last September has increased vehicle replacement and housing/manufacturing demand.
Additionally, unemployment rates have fallen as the market has grown, but Strauss believes there is still room for the national rate to go a little bit lower, maybe even below 4 percent. After that, he says the potential employees who are still unable to find work are likely hindered by capability deficiencies, not job openings.
Strauss says there's also potential for employee productivity to rise. He says national productivity has been low for several years but recently trended up in 2017 as capital investments rose across most industries. He says if those investments do the same this year, corresponding wage and overall economic bumps could follow.