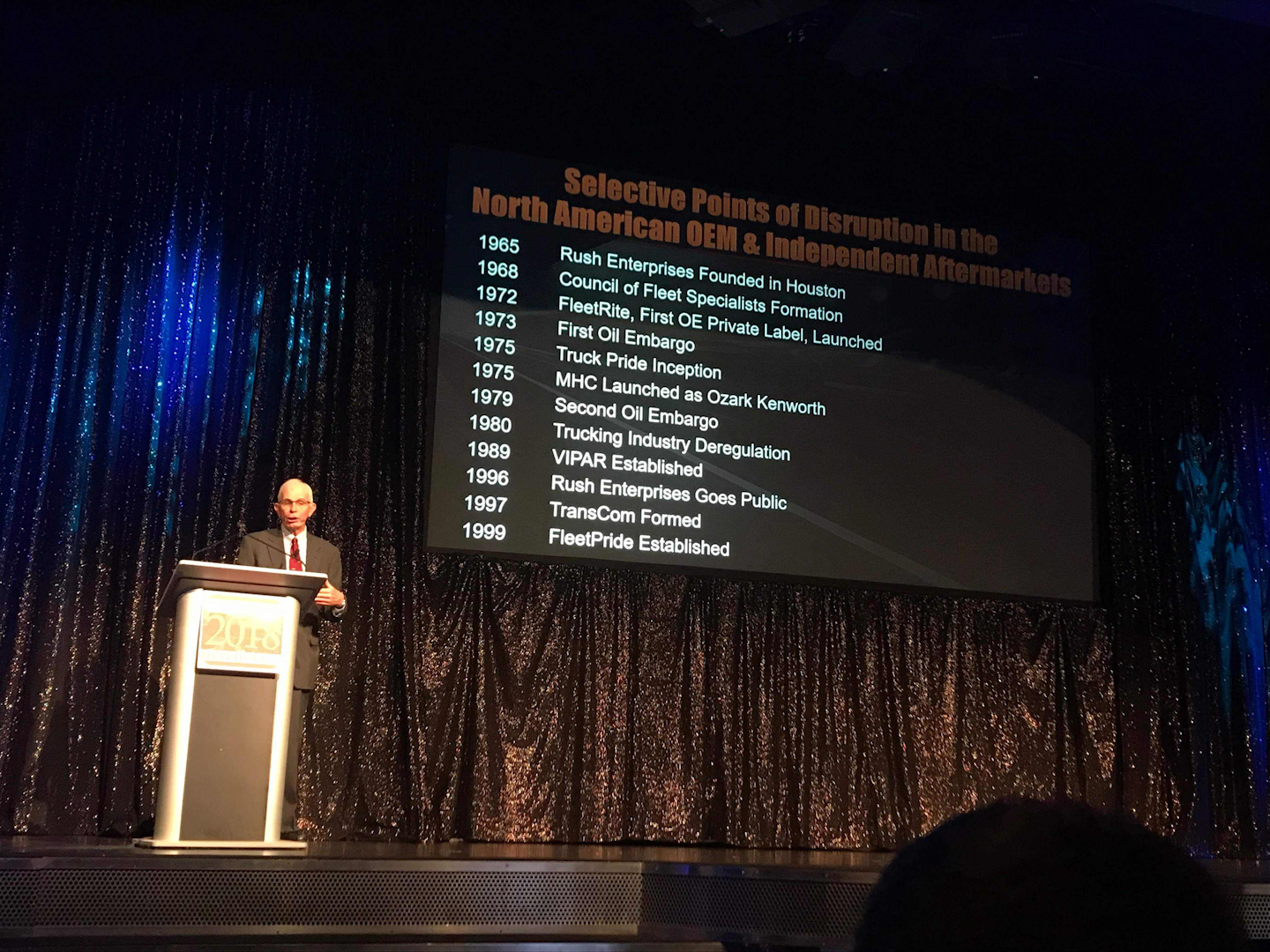 The rapidly expanding, globalizing trucking industry took center stage during the opening presentations Monday at Heavy Duty Aftermarket Dialogue before Heavy Duty Aftermarket Week (HDAW) 2018 in Las Vegas.
In the event's kickoff presentation by Stu MacKay and follow-up panel with MacKay and executives from Mack, Meritor and Bendix, each speaker made it increasingly clear that the days of the North American market operating somewhat independently from the rest of the world is over. The trucking industry has gone worldwide, and globalization is here to stay.
Batting leadoff on Monday, MacKay says he's been watching international corporations slowly make their way into the trucking industry for decades. While some of these entrances have been more noteworthy than others, each has disrupted the market in its own way, and pushed the North American market closer to the rest of the world.
But it has only been in the last decade-plus, while advanced engine and safety technology has blossomed, where overseas influences have become so evident in North America. Monday's panelists Jay Craig, president and CEO at Meritor; Joe McAleese, chairman at Bendix CVS; and Dennis Slagle, president at Mack Trucks; addressed that topic head on.
Slagle says Mack really started on leaning on the European processes of its parent company Volvo Group during the economic downturn last decade. He says the company had always preferred to install as many of its own proprietary parts as possible — MacKay adding here that Mack has been "operating like a European company for decades" — and made that an even larger point of emphasis last decade as a way to increase parts and service sales potential for its dealer channel.
The global reach also provides manufacturers access to designs and technology that can be useful in North American units. Craig says Meritor did that last year with the introduction of its newest drive axle. First introduced in Asia, Craig says Meritor was able to slightly alter the design to meet the needs of the North American market. McAleese says Bendix has done the same with its large proliferation of safety systems.
On the topic of safety, McAleese adds that Bendix also has leveraged training procedures used successfully in other areas to best train its distributors and customers in North America.
And each panelist says moves like that will only increase as markets become more and more intertwined. Globalization allows manufacturers to introduce and optimize products and services at an outstanding rate.
That isn't to say the days of market disrupters have come and gone. McAleese and Craig's businesses are challenged by new overseas manufacturers each day, typically in the area of value line and all-makes parts. And Slagle says North American trucks aren't always going to be built by four companies. Domestic alternative-powered truck makers like Tesla are garnering interest from fleets, and there are overseas trucks that can do most everything a domestic Class 8 tractor can do. The question Slagle and McAleese ask is how are those businesses going to set up a dealer network? While Tesla may be touting a dealer-less truck brand, how that will actually work for the industry remains to be seen.